VietNamNet Bridge – Here and there in the ancient town of Hoi An, food delicacies offer an insight into local culinary art and culture. 
Choices: Gastronomers select food at an outdoor buffet at Silk Village in Hoi An. Photo Silk Village
Living in an old house in ancient Hoi An Town, Tran Tan Man and his family members still preserve the traditional cuisine of their ancestors centuries ago.
The trade, which he inherited from his great-grandparents, has been a major breadwinner for the family for centuries, ever since Hoi An was a bustling trading port.
Trung Bac Restaurant with a vintage architecture is in Tran Phu Street in the middle of Hoi An Market, very close to the Japanese Bridge. It is seen as a most favourable site for Hoi An-born food.
Man, 62, is the fourth generation of his family in the business. He still lives and manages the old two-story restaurant with his brothers and sisters.
"My great-grand parents built this house to start a cuisine trade in the port town. The restaurant was named under the cross of cultures from North and Central Viet Nam as my great-grand father was an emigrant from the North (mien Bac in Vietnamese, or the Northern region) and married a Hoi An-born woman (Hoi An is in Central Viet Nam, or mien Trung - the Central region)," Man recalls.
"The name of the restaurant also reflects the mixture of Northern and Central cooking tastes, thus Trung Bac. The style has been preserved from generation to generation," he says.
Man says all the family members themselves work as cooks and waiters serving tourists with traditional food.
He introduces Cao Lau (a noodle dish of Hoi An) as a 'must' food whenever you visit the town and the restaurant.
He says the food, which is a feature of Hoi An's cuisine, needs a lot of manual preparation with many different processes that takes much time.
Man's older brother, Tran Thi Mai Dao, says rice is the major material for noodle making, while pork, vegetables and aromatic herbs must be carefully selected to be of the best quality.
"It needs all day and night in the preparation. Each family member is assigned a process. Pork tender loin, which is used for Cao Lau, is braised for hours with soya bean sauce after it has been soaked in various spices," Dao says.
"Cooks often mix in slices of fried pork skin, and the dish is eaten with lettuce, basil and bitter vegetables, bean sprouts, and a slice of pork. Vegetables and herbs are cut fresh from Tra Que Garden Village in the suburbs of Hoi An Town," she says, adding that Cao Lau is a meticulous Hoi An food to prepare.
She says Cao Lau can also be made using beef or chicken instead of pork.
Man, the restaurant manager, says gastronomers can feel the different tastes of the vegetables and pork – a balanced appetite of fat and flavours from the herbs and vegetables.
Lengthy preparation: A bowl of Cao Lau (a Hoi An noodle dish with pork or beef) is a must for visitors to Hoi An. VNS Photos Cong Thanh
He says gourmets can recognise the different noodles for Cao Lau and Pho or My Quang (Quang Nam noodles), and the dish must be eaten whenever you come to Hoi An. It's like you must have Pho when you are in Ha Noi, or My Quang in Quang Nam and Da Nang.
He says Hoanh Thanh (wontons in transcription from Cantonese), is a type of dumpling that needs to be tasted in Hoi An. The dish is made from flour, shrimp and a soup of braised pork and spices.
Snacks
It's a tiny cassava dumpling filled with ground shrimp that is then steamed.
Chef Tran Tan Nga of the restaurant says the dumpling is formed in the shape of a small rose, and thus it was named "white rose".
"It's really a snack in Hoi An. The cake is not so filling, but it helps diners find a space in their stomach for more food in the restaurant," Nga says. The dish is topped with fried shallots and served with fish sauce and sugar.
Nga, who is a younger brother, says the family of four brothers and sisters almost live in the restaurant.
"We always want to serve tourists the best food in Hoi An. It is an old local tradition. Visitors can explore many interesting things in the ancient town, besides old houses, pagodas and relics," he says.
Genta Miyagawa, a Japanese resident in Hoi An, says Japanese tourists often taste Hoi An food whenever they come to the town that still preserves the Japanese architecture and cultural exchanges between Hoi An and Japan from 400 years ago.
Snacks can be found easily from street vendors on every corner of the Old Quarter. Local vendors offer everything that they cook at home for tourists including silken tofu (soya bean) in ginger syrup, sweet soup (lotus with black, green or red beans), Banh Beo (water fern cake) and other types of cake wrapped in banana leaves.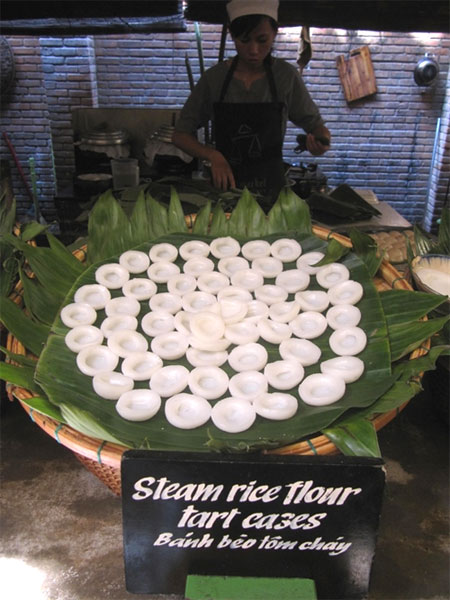 White rose: Banh beo (Steamed rice flour tart cups)
Tran Thi Kim Hoa, 29, a local street vendor at the junction of Tran Phu and Hoang Van Thu streets, shows us a basket of grilled sweet potato cakes.
The round cake is a mixture of boiled sweet potato and green beans, and the seller grills it on a portable stove to serve hot.
"It's a local cake. You can enjoy it while walking in the Old Quarter for just a few pennies," Hoa offers. The snack is only VND5,000 or 20 US cents a piece.
She says tourists prefer the snack as it's quite cheap and tastes of natural farm produce.
She says the cake sells well in the afternoons every weekend when tourists flock to the town to explore the Old Quarter and to see the lanterns light up every night.
One-dollar snacks
Hoi An Market is a destination for housewives, but the location is also known as the cheapest snack site for tourists.
Dinh Thi Ta, 57, who owns a sweet soup shop in the cuisine zone, says snacks in the market are quite cheap and delicious.
"I have been making sweet soup since I was 16. I love the job even though it's a hard job, but the trade is my mother's treasure," Ta says.
She says her shop offers 10 varieties of sweet soup including black and green bean, red peas, lotus seeds, French beans, maize, tapioca, jelly, veggie jelly and coconut milk at the same price of VND10,000 (40 US cents).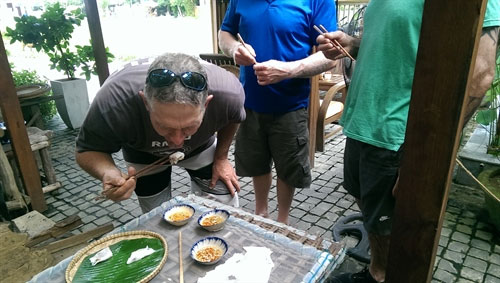 Curiosity: A tourist tastes food in Hoi An
Ta says all the shops at the cuisine corner of the market serve hot food including Cao Lau, My Quang, Bun Bo (round noodles with beef) and Hoanh Thanh at the price of only a dollar.
She says sellers are more concerned about the quality of the food and their reputation rather than quantity of sales.
Tourists can also find dried foodstuff, fruit, household appliances and daily necessities at the market.
Bread and rice chicken
Banh My, or bread rolls with various fillings, can be found on every street corner in Hoi An.
Truong Thi Phuong, who owns a Banh My shop on Phan Chu Trinh Street, is seen as the most favoured bread shop in Hoi An.
Phuong, 50, inherited a recipe unchanged for generations from her family consisting of liver paste, roasted and steamed pork, chicken and bread.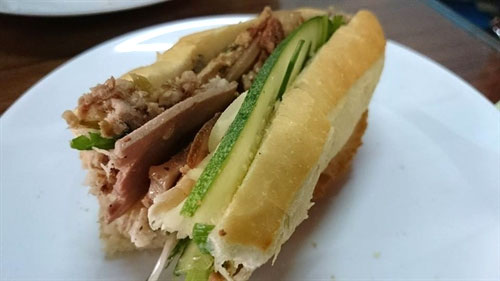 Banh my: Vietnamese sandwiches made with pork, smoked meats and salad are the best and cheapest food in Hoi An, in the Central region of Viet Nam.
"Fresh, careful selection and quality food and vegetables, plus strict food safety conditions are the standards that helped build this successful trademark," she says.
The US tourism website TripAdvisor voted Phuong's Bread as the best Banh My shop in Viet Nam and 32nd out of the 432 restaurants in the ancient town.
Bread with stuffing made from pork, chicken, fried eggs with vegetables, tomatoes and hot chili are popular with people from the Central region and with tourists for breakfast, lunch or dinner, and it is seen as a 'Vietnamese sandwich'.
It costs VND15,000 (70 US cents) to VND25,000 (US$1.20) for a piece.
"It does not make you fat as vegetables are the main ingredient in the stuffing. The bread represents a Hoi An cuisine made from local materials, cheap in price and makes a delicious snack," says Yuki Hirukawa, a Japanese living in Hoi An.
Visitors often queue at the bread shop for breakfast, lunch and in the evening.
Madam Khanh's bread stall, on Tran Cao Van Street, is seen as a favourite bread shop by travellers. The stall's owner is an old woman who offers the most delicious 'Vietnamese sandwiches' at a reasonable price.
Com ga Ba Buoi, or Madam Buoi's Rice Chicken restaurant, in Phan Chu Trinh Street, is known as one of the best deals for Hoi An cuisine.
The restaurant offers a dish of rice at VND35,000.
Chicken rice in Hoi An is a very special food where the chef uses chicken broth to cook the rice that was previously mixed with spices.
The restaurant is often overloaded with domestic and foreign tourists between 6pm and 9pm.
Diners often wait on chairs outside the restaurant for the next serve in the evening.
Night of lanterns
Hoi An-born Le Vu, says the evening is often a rendezvous time for tourists in the Old Quarter and along the Hoai River banks when the lanterns are lit up at every restaurant and street replacing the dim electric light bulbs.
"Hoi An at night is really twinkling. You can enjoy the romantic peaceful landscape of the town reflected in the river. The streets along the river are decorated with colourful lanterns, while paddle boats carry tourists up and down the river under the light of lanterns," Vu says.
He says the old town reserves evening time for pedestrians, and all you can hear are footsteps and romantic music from the restaurants and coffee shops.
Vice chairman of Hoi An, Nguyen Van Son, says the city has planned Hoi An Market as a cuisine destination, and has expanded the pedestrian areas for tourists.
He says the cuisine in Hoi An, which was recognised as a part of world heritage by UNESCO in 1999, will be seen as a landmark of the town.
Tourists can find many restaurants in the Old Quarter offering quick cooking classes for fast serve Vietnamese food.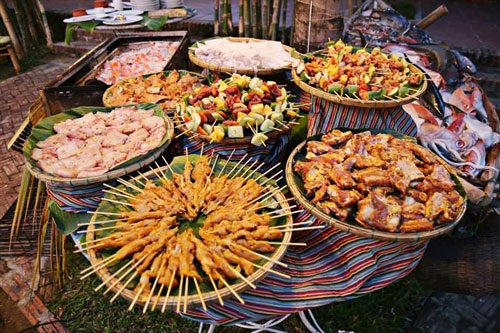 A feast: A food buffet for tourists visiting Silk Village. Photo Silk Village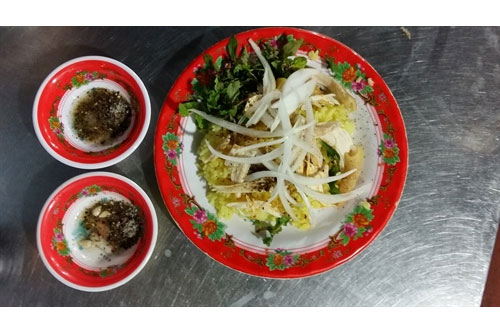 The basics: Chicken rice is the favourite food in Hoi An. This dish represents the traditional cuisine of Hoi An and Quang Nam Province.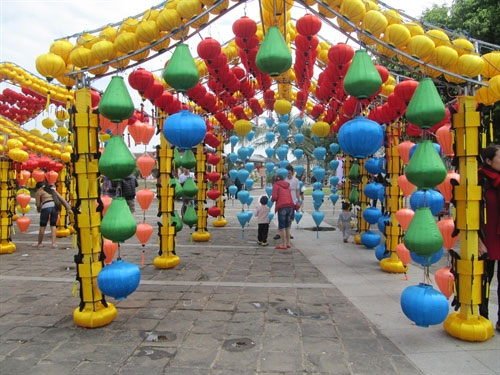 Electricity off: Lanterns decorate Hoi An's Old Quarter.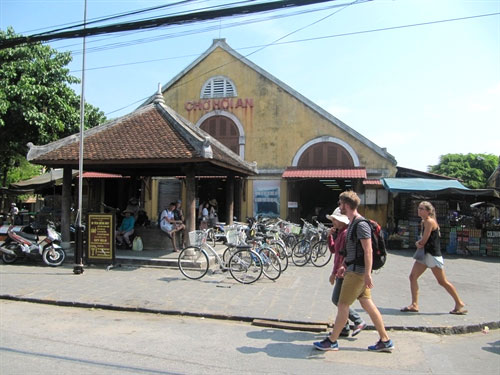 Where to eat: Hoi An market is a tourist favourite because it offers the cheapest street food.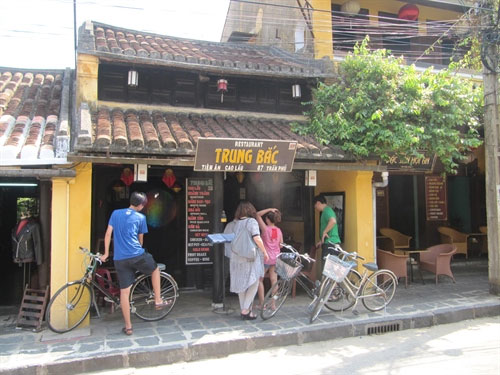 Please stop by: Tourists visit Trung Bac Restaurant in Hoi An. The restaurant features the best local foods of Hoi An. VNS Photos Cong Thanh
VNS
Hoai Nam