VietNamNet Bridge - Yen Bai, a province in northern Vietnam, has many beautiful landscapes, such as Mu Cang Chai and Thac Ba reservoir, Giang stream, Ta Xua, Pu Nhu waterfalls ...
Mu Cang Chai terraced fields
Mu Cang Chai is a renowned district of Yen Bai, winning praise for the creative and heavenly terraced rice field. 
The destination is nestled at the bottom of Hoang Lien Son Mountain Range and is 1000m above sea level. 
To reach Mu Cang Chai, tourists go through Khau Pha Pass – one of the four leading passes in Northwest Vietnam. The journey to Mu Cang Chai is full of imposing landscapes.
The terraced rice fields in Che Cu Nha, La Pan Tan, and Ze Xu Phinh in Mu Cang Chai has been recognized as national landscapes. 
This creatively gorgeous terraced paddy field is evidence that human hands can create a masterpiece in harmony with nature, making Mu Cang Chai an outstanding attraction in Vietnam. 
The two best months for Mu Cang Chai photo toursare September and October.
Thac Ba Lake
This is an artificial lake built in 1970 for hydropower plant development. Thac Ba Lake has an area of 234km2 including 1,133 islands and hills with rich ecological conditions. 
The lake itself looks impressive with blue & clear water, lots of hills, islands, and caves. Thac Ba Temple on the bank of the lake looks highly sacred. Coming to this ecotourism site, you can enjoy sightseeing, mountain climbing, and hiking. 
Taking a walk in Thac Ba Lake, you'll be impressed by the reflections of the ancient forests on the blue, transparent water. 
There are also lots of fascinating sites to see in the area including Thuy Tien Cave, Xuan Long Cave, Trinh Nam Island, etc. 
Thac Ba Lake has been recognized as the historical and cultural vestige. This area is home to dozens of ethnic minority groups who preserve their traditional life as well as colorful traditional festivals. 
Luc Yen Gem Market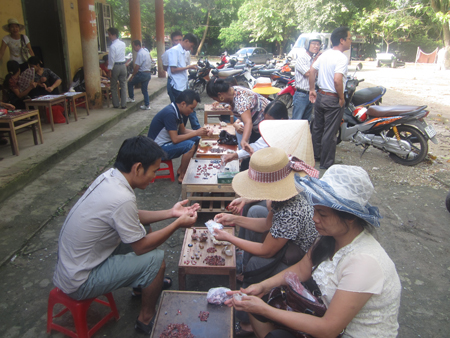 For over 15 years now, Luc Yen gem market has been an excellent place to buy and sell precious stones, specifically from Luc Yen District's plentiful gemstone mining areas. 
At the market, you can see sellers show off their products, including rubies, opal and jadeite, on rows of small tables. 
The prices are announced depending on the type of gem which can be ten thousand, hundreds of thousand, a million, or tens of millions dong.
Tuan Quan Temple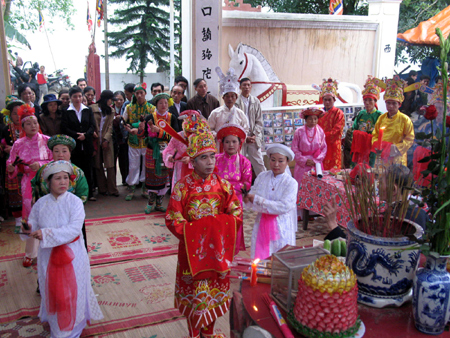 3km from Yen Bai city center, Tuan Quan temple was built in the 14th century in the Le Dynasty. 
It used to be called "Mistress Bach Lam" temple. It worships Lieu Hanh, Tran Hung Dao, Hoang Bo and other human genies. 
The temple is associated with many uprisings and was recognized as a historical relic in 2005. It is a popular spiritual site in Yen Bai with many annual festivals.
Suoi Giang 
Suoi Giang is situated on a height of 800-1000 m above sea level. This site is home to age-old tea trees. 
With the temperature in summer around 30-320C, and very pure air, Suoi Giang Site is suitable for tourism sightseeing and exploring the cultural life of H' mong Ethnic Group.
Ta Chi Nhu Mount
Ta Chi Nhu peak in Tram Tau District is the mountain shared by many who love climbing and "cloud hunting".
The best time of the year to watch the clouds is between October and February, when the cool air causes clouds to gather around the mountain.
The mountain is also known as Phu Song Sung by the Thai ethnic, or Chung Chua Nha by the Mong people, and is part of the Pu Luong mountain of the Hoang Lien Son range.
Although Ta Chi Nhu is lower compared to Mount Fansipan (the highest mount of 3,143m in the northern  province of Lao Cai), the way to the top is more difficult because of Yen Bai mountain's sloping and tortuous roads.
The weather conditions near the mountain are often foggy and windy. The path to the peak is almost vertical, sometimes like walking on a ridge.
From the foothills, dense fog surrounds the area, not to mention strong winds, which become stronger near the top, whipping climbers' faces.
The mountain is also home to horses, goats and cows. Local residents visit animal huts on the mountain every week, bringing salt to feed their animals.
Hikers who conquer the 2,000m height can stay overnight at the transient station where they can camp overnight, light a fire and drink hot tea, while enjoying the clouds and sky, as well as have a unique chance to watch the mesmerizing dawn and sunset among the clouds.
From here, visitors have to hike several kilometres to reach the final destination, where they will feel as though they can reach out to grab those lazy, floating clouds surrounding them, which create a fairy tale-like world.
Also from the peak, hikers can easily see the Ta Y Cho and Ta Xua peaks. In the ocean of clouds, those peaks float like stunning islands.
Ta Xua Mount
This hard trekking journey leads to the mysterious mountain peak of Ta Xua Nature Reserve, which seems to be like a dinosaur's backbone, with a rough path halfway up the mountain, extremely deep cliffs and heavy wind along the two sides of the mountain. 
This area is also said to be the heaven of clouds, thanks to its rugged terrain and vaststeppe with thousands of wildflowers.
Ngoi Tu cultural village
Ngoi Tu village in Vu Linh Commune, Yen Binh District is home to Dao, Cao Lan, Nung ethnic people, mainly Dao quan trang (Dao people wear white trousers) with more than 130 households. 
The villagers have preserved traditional handicraft (caving jewelry, embroidering, printing pattern on fabric with wax; making ban paper); cultural events (cap sac ceremony - an important ritual of Dao men life, fire jumping festival, wedding ceremony); folk songs (giao duyen singing, ken dancing, stick dancing); cuisine (lam rice, roast meat, manioc wine, rice wine); folk games (stick pushing, walking on stilts, danh yen (similar to badminton); and house architecture. 
Dao quan trang people live in three room house-on-stilts made from separate components and linked by bolts instead of nails. The house has only one stairway with odd footsteps.
Ngoi Tu has received investment to become a culture-tourism village, with the aim of developing community-based tourism combined with ecotourism. 
Compiled by Pha Le