After nearly one year of offering visa waivers for citizens from five Western European countries, travellers from these markets have been on the rise. For this reason, the visa exemption policy is considered a lever for Vietnam's tourism growth.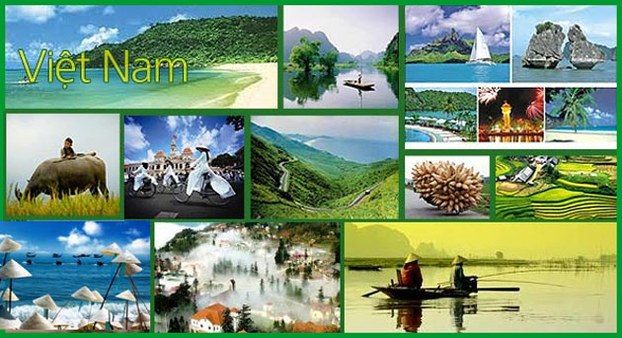 The visa exemption policy for citizens from five Western European countries (according to Resolution No.46/NQ-CP) has been in place since July, 2015.
The visa waiver helped bring in more than 681,000 visitors from the five Western European countries from July 2015 to June, 2016, up over 15% year-on-year.
In the first five months of this year alone, the number reached nearly 342,000, up 20.1% year-on-year.
Accordingly, the number of travellers from Italy, the UK, Spain, Germany and France increases 30.1%, 24.4%, 22.4%, 17.6% and 13%, respectively. According to the Vietnam National Administration of Tourism (VNAT), tourists from the five Western European countries have brought Vietnam an increase of more than US$170 million in revenue.
Although the policy will expire on June 30, 2016, the number is considered a positive result of the Government's tourism industry policies.
A tourism competitiveness report of the World Economic Forum (WEF) in 2015 indicated that Vietnam's tourism ranked 75th out of 141 nations. The country stood at 119th in terms of visa requirements.
According to the World Economic Forum (WEF) 2015's report, Vietnam ranked 75th out of 141 countries in the WEF's Travel and Tourism Competitiveness Index (TTCI).
Although Vietnam was highly appreciated in terms of natural resources (40th position), cultural resources (33rd position) and Price Competitiveness (22nd position), Vietnam ranked only 89th for International Openness.
Vietnam stood at 119th in terms of visa requirements, which is one of three International Openness's indicators.
The index ranking reflected the reality of Vietnam's visa policy. As of July, 2015 Vietnam officially granted visa waivers for an additional five countries in Western Europe and Belarus, bringing the total to 22 countries; nine of the countries are ASEAN countries.
However, the 15-day visa-free stay is not suitable for Western European travelers because their vacations are long, ranging from 21 to 30 days or even longer.
"With this restriction, we lose the opportunity for them to stay longer", according to President of the Hai Au Aviation Joint Stock Company, Luong Hoai Nam.
At a working group on the tourism mission of Asia-Pacific Economic Cooperation (APEC), the APEC Policy Support Unit (PSU) presented research on the impact of tourism solutions on attracting international visitors.
The research result showed the visa has the largest impact on the tourism destinations' attraction. According to the report of the United Nations World Tourism Organisation (UNWTO) and World Travel & Tourism Council (WTTC) in 2014, simplifying visa requirements could help Vietnam attract more international visitors.
If Vietnam do not improves the visa requirements index, Vietnam's Travel and Tourism Competitiveness Index will not reach the level of others in the region.
Vietnam granted visa waivers for 22 countries while the regional countries have simplified visa requirements to woo foreign tourists.
To realize the target of welcoming 20 million international visitors in 2019, Indonesia has exempted visas for citizens from 79 more countries and territories since March, bringing the total to 169.
Travellers from EU countries and North America often travel to many countries in region. Vietnam's tourism industry needs to simply visa requirements to connect with other destinations in region.
Visa requirements are currently considered the largest obstacle for Vietnam's tourism industry, according to Nguyen Van Tuan, the General Director of the General Department of Tourism.
As a result, the Ministry of Culture, Sports and Tourism (MoCST) has proposed the Government increase visa-free stays for citizens of five Western European countries from 15 days to 30 days for five years.
The ministry also suggested the government approve its proposal to offer unilateral visa exemptions for citizens from another 13 countries who travel to Vietnam on full-package tours.
It submitted to the Prime Minister a visa waiver scheme for tourists from several key markets as well as granting visas at border gates and e-visas to facilitate travelling.
Tran Thi Viet Huong, director of marketing at Vietravel, said the visa exemption for travelers from the five European countries should be lengthened as travel companies need a longer time to promote their products effectively.
If the MoCST's proposition is agreed, it will motivate tourism companies to develop in the future, she said.
Nhan Dan