The central city of Da Nang has launched its app inDanang on mobile platforms to provide tourists with necessary information on the city, aimed at giving them the best possible experience when visiting Da Nang.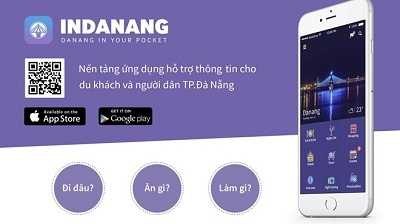 The app was developed by a group of young technology and tourism lovers. With a cell phone in hand, users can download the software free of charge to update or share local travel information through local people's experience.
The inDanang app has been praised by tour operators, travel management groups and visitors for its transparency of information.
Nguyen Van Chuong, the project's founder, said that inDanang was developed based on content provided by the Da Nang Departments of Tourism and Trade.
It focuses on serving visitors and businesses to manage location information, create a new event, announce promotional packages and receive feedback from visitors, helping tourism businesses to improve their service quality and build long-term relationships with customers.
According to the project's team, in four months of testing, the inDanang app has attracted about 12,000 downloads and 1,000 frequent updates, including from many foreign tourists.
The biggest difficulty for the project is to standardise information to improve the product and introduce it to customers.
Currently, the team aims to expand the application to all tourism cities in Vietnam and around the region, particularly expanding the programme by linking it with tourism co-operation programmes between localities.
Nhan Dan