VietNamNet Bridge - The natural wonders of Vietnam like Ha Long Bay and Son Doong Cave must be preserved for future generations, President Obama said in Hanoi.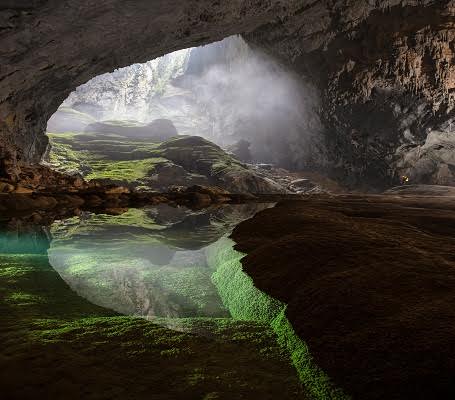 Son Doong Cave
After talking about American tourists who came to Vietnam to visit the Hanoi Old Quarter, shops in Hoi An,  and the former royal capital Hue, Obama referred to the famous natural landscapes of Vietnam such as Ha Long Bay and Son Doong Cave.
"Natural wonders like Ha Long Bay and Son Doong Cave have to be preserved for our children and our grandchildren," Obama said in a speech broadcast live on the national television of Vietnam (VTV).
 The US President also stressed the need for sustainable development in order to protect human health, and preserve the beautiful planet before the global challenges.
Obama also said he would like to have more time to return to Vietnam again with his wife and children to learn more about this beautiful country.
Son Doong, the world's largest cave, is one of outstanding natural landscapes of Vietnam, which is attracting the attention of foreign tourists. After a recent tour to the cave, US Assistant Secretary of State Tom Malinowski expressed his admiration for the surreal beauty of Son Doong and saiditshould be preserved.
"It was among the most memorable experiences of my life," he wrote. "It lies in a hidden valley, which we could only be access by passing through another cave. Around every corner, we encountered images that seemed to be taken from abstract art or the illustrations to a fantasy story, not like anything we ever expected to encounter in the real world."
"But Son Doong is not only beautiful – it is also very fragile. It took nature millions of years to sculpt it, one drop of water and one grain of sand at a time. It would take human beings an instant to destroy it, if we chose to exploit it in the wrong way," he said.
"I hope that my children and grandchildren will be able to see this great treasure of Vietnam just as I did," he added.
Thu Ly