VietNamNet Bridge – A trip to the northwest is not complete without trying local dishes - Thai specialties, to be more specific.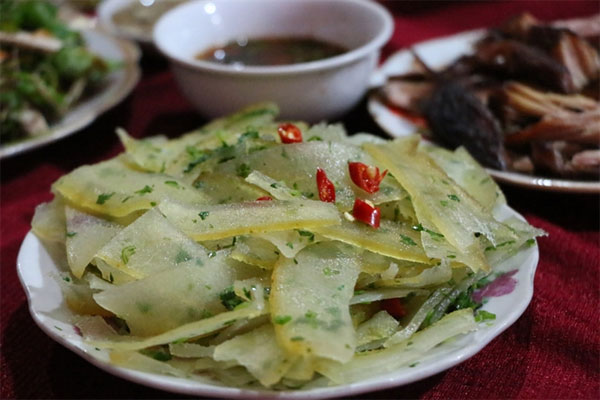 Salty snack: Thinly sliced roasted buffalo skin mixed with local herbs and chili. —VNS Photos Doan Tung
In our trip earlier this month to Dien Bien Phu, we were taken for a wonderful dining experience in the Thai village of Noong Chun, in Nam Thanh District of Dien Bien City.
It would be unfair to a restaurant if we went alone or only as a pair. Vietnamese in general like to share their meals, and every dish provides enough food for a few people – except for the big city office workers who get lunch with everything on one plate. When you go out of town, you need to go in a group of five to six to truly try everything special about a region or an ethnic cuisine.
We were lucky to have five of us and one local, who brought his wife, an award-winning high school teacher, along.
Vu Van Phu lives in Dien Bien City with his wife and two sons. But he went to college in Ha Noi so the talk over dinner took off from his college time and experiences in the city.
He took us to a village, which also offers homestay services, for a special Thai dinner. There were so many diners who booked the main stilt house restaurant, we were told to go further inside the village. Greeting us was a beautiful grapefruit tree in full bloom with thousands of little white flowers exuding a sweet fragrance.
As the true connoisseur he was, Phu brought with him a big jar of strong locally distilled rice liquor that could rival vodka. He placed a big white soup bowl in the middle of the table and started pouring it full.
Tiny ceramic cups the size of a big thumb then are dipped into the bowl to get the liquor.
"Here's to your trip," Phu said. "And my wife and I are very happy because you called upon us when you are in town."
"Please," his wife added in, "let me shake your hand!" Handshaking after each liquor shot has become an unspoken custom everywhere in the mountains, where one has to pass a drinking test to become brothers-in-arms.
As they say, when you're in Rome, do as the Romans do. And I for the first time shook hand with my co-worker, with whom I had worked for more than 20 years.
The dinner was packed full with Thai dishes. A feast of colours, ingredients and spices, downed with a shot of strong rice liquor.
If you're used to getting started with crispy shrimp snacks popular in restaurants in Ha Noi, Hue or Ho Chi Minh City, here you also have a local Thai equivalent made from taro and tapioca. They came in yellow, white and light purple.
The second dish was also a delicacy – roasted buffalo skins, finely sliced and then mixed with mac khen seeds and other seasonings. It's chewy, well-seasoned and a great accompaniment to the liquor.
We were in town during the Hoa Ban, or Orchid Tree Festival. It has both benefits and disadvantages. On the positive side, we were able to see some of the best orchids in the region. The orchid show, for one, provides the best orchids grown by members of the local orchid club.
Lo Van Phong
Noong Chun Cultural Village,
Nam Thanh District, Dien Bien Phu City
Tel: 096-711-1232
Comment: Wonderful Thai dishes with music and dance on demand
A downside was that the food was in such a high demand that the service suffered. "Please bear with us," Lo Van Phong, owner of the restaurant, kept saying to us. "Do you have everything you need? One banana-leaf-wrapped roasted minced pork? You will get it." Phong ended his sentences with a broad smile and yet another excuse. I've never seen such a sincere smiling and apologising face!
The pork tasted so good. Phu's boys really loved it. Every table had a big bowl of steamed sticky black and white rice. We mixed the baskets to take a picture of the contrasting white and purple colours.
Home to large bamboo forests, the northwestern cuisine provides the best bamboo shoot dishes with two distinctive flavours: bitter and sour. For our experience, we had the stir-fried bamboo with such a strong bitter taste that our dining companion compared it with antibiotics! I, for one, liked the bitter flavour, because the lingering taste turned sweet after the bamboo was gone.
Another popular snack for drinking is smoked shredded pork. A salad plate full of greens added fiber to the protein-rich dining course. Someone uttered that he would like to try the signature orchid tree petals salad. Unfortunately, this year, the orchid trees suffered from the cold wave that swept through the region in January. It stopped the trees from blooming so there wasn't enough to make the dish.
"Here's to you, I'd like you to drink a shot with me," I said to Phu's wife, who had to excuse herself early to go to a music rehearsal from her school. We drank and shook hands for the second time.
A Thai meal always includes a fish dish, called pa pinh top. It's a whole fish well-marinated with local seasonings like mac khen seeds, chopped green onions and ginger, grilled on charcoal.
The most inviting dish I've ever seen on a Thai table was the chicken stew in a whole pumpkin! The sweet flavour of the pumpkin added to the chicken chops and made it taste amazing. Beautiful and delicious, the pumpkin pinned the meal together!
To end the feast, we had taro stew and sour beef soup with la lom! The sour taste renews your palate, removing the rich flavour of so much good food.
Last but not least, the beautiful sight of white and purple mountain sticky rice urged one to try one more bite, squeezing the rice in your palm into a long bun, then dipping it in the salt mix.
After several rounds of drinking and handshaking, we were all full and were running quite short of wishes to say.
The bill was VND1,300,000 (US$110) for 9 people – VND150,000 per person. The larger the group, the less we pay and we get to try more dishes.
As we could not finish all the food, we took the leftovers back to the hotel. Full and content, we went back to prepare for an early trip up to the mountains the next day.
On the courtyard outside, other visitors sat on wooden benches to watch a Thai and Mong music and dance. Phong, the restaurant owner, now hosts the show. He even sang a song!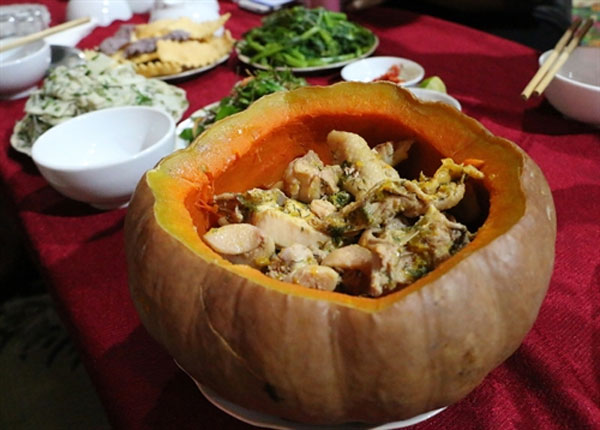 Height of the feast: Chicken chops in a pumpkin.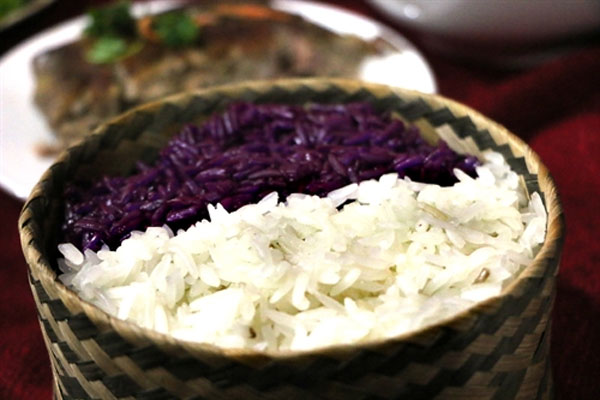 Multi-coloured: White and purple mountainous sticky rice are a must at every Thai meal.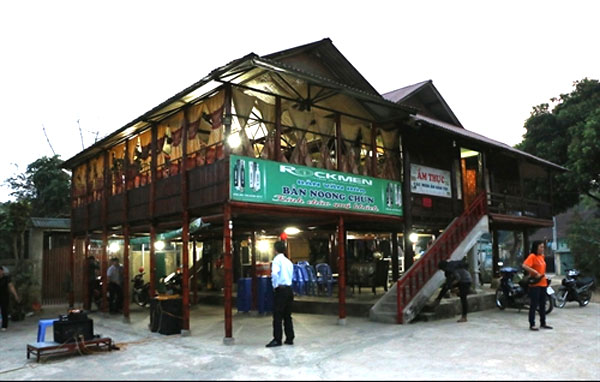 Cultural Thais: The village of Noong Chun offers authentic Thai food.
by Nguyen My Ha
VNS