VietNamNet Bridge - Can Tho is the largest city in the southwestern region of Vietnam, with the specific culture of water-based.
Cai Rang floating market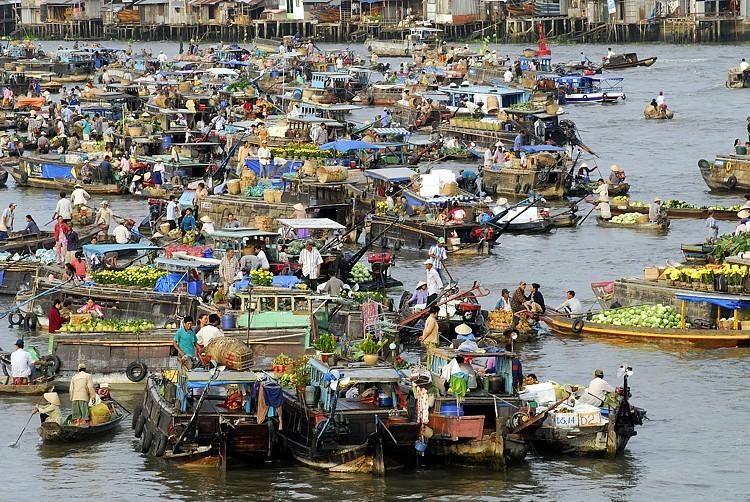 `+`

It is said that "not being in Cai Rang floating market means not knowing the land of Tay Do – an old name of Can Tho". Cai Rang floating market, one of the famous floating markets of the Southwest, specializes in selling fruits and agricultural products of the whole region.
Every early morning, hundred boats gather together where their owners sell agricultural products. To be recognized easily, they hang out product samples on a long bamboo (called Cay Beo) in front of the boats, so that they do not need to cry about their wares as farmers do in the mainland market.
The market also has most services of a normal market such as food, grocery sales, repairing service, fuel station…
Binh Thuy ancient house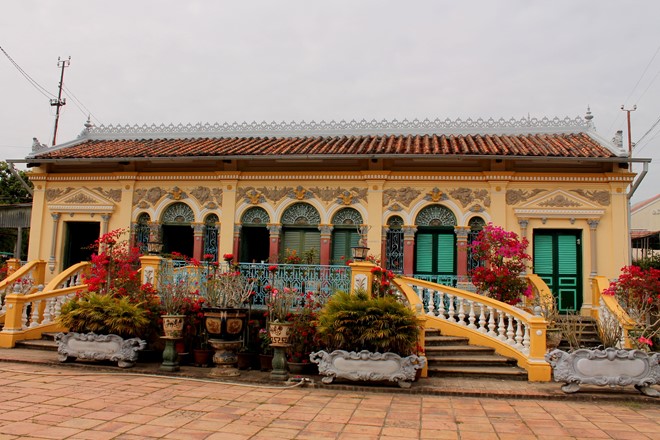 Binh Thuy ancient house is an ideal place to explore the region's history.
Located at 26/1A Bui Huu Nghia Street in Binh Thuy ward, about five kilometers from downtown Can Tho, the house is filled with features that represent rural areas in the Mekong Delta region during the 20th century.
The French-style house was built in 1870 by the Duong family on an area of nearly 6,000 sq m. Its base is about one meter higher than the land surface.
In order to keep warm and avoid termites, the house owner laid a 10 cm layer of salt under the floorboards.
With front and back gardens, the five-room house offers a comfortable environment full of fresh air and brilliant sunshine.
Bang Lang stork garden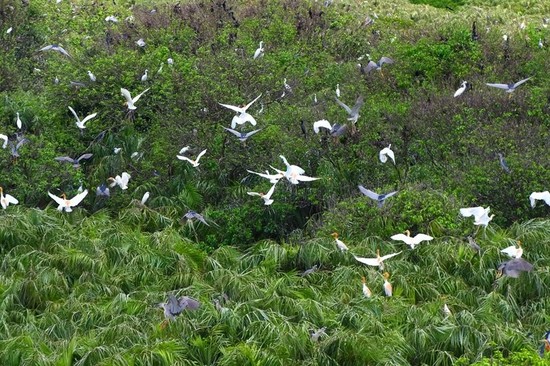 Located in Binh Thoi Hamlet, Thoi Thuan Commune, Thot Not District, 52 kilometers from the center of Can Tho City, Bang Lang Stork Garden is a popular stop for tourists.
The garden covers about two hectares and is home to thousands of storks as well as many other kinds of birds. There are various species of storks living at Bang Lang Stork Garden including cattle egret, ibis, striated heron and painted stork.
There are also other species making it their home such as black-crowned night heron, little cormorant and greater coucal heron.
Eighty percent of birds in the garden are the white cattle egret. This species of stork often builds their nests in the garden from March to August of the lunar year.
The best time to admire the garden is 5 p.m. when flocks of storks fly back to their nests. They hover on the sky then perch on tree peaks, twitter together and pose in the wind. There is a three-meter watching tower for tourists to see birds.
Nguyen Ngoc Thuyen, who is often referred to as Mr. Bay Co, the owner of Bang Lang Stork Garden, at first he only wanted to save some storks stuck in fishing traps but the garden kept getting bigger and bigger.
Thus, the garden was established in 1983. It is strange that a large number of storks chose to make their home at the garden of Mr. Bay Co. At first, there were very few but then Mr. Bay has created good conditions for the storks to live in his garden. Since then, Bang Lang garden has gradually been expanded with the current area of about 2 hectares and number of storks ranging from 100,000-150,000 of more than 20 species.
Orchards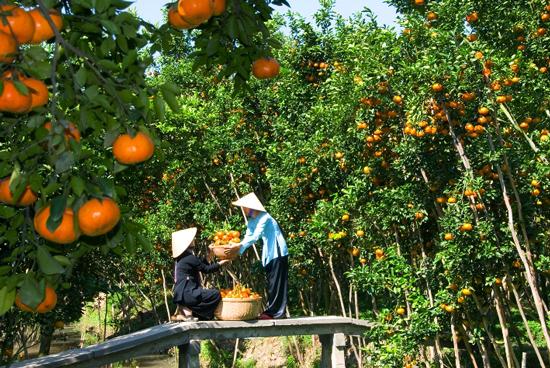 The orchards are located along all roads and canals in Can Tho, offering tourists the chance to taste various kinds of tropical fruits. The largest orchards are My Khanh, Mr. Sau Duong's orchard, Binh Thuy orchid garden, etc.
Ba Bo Flower Village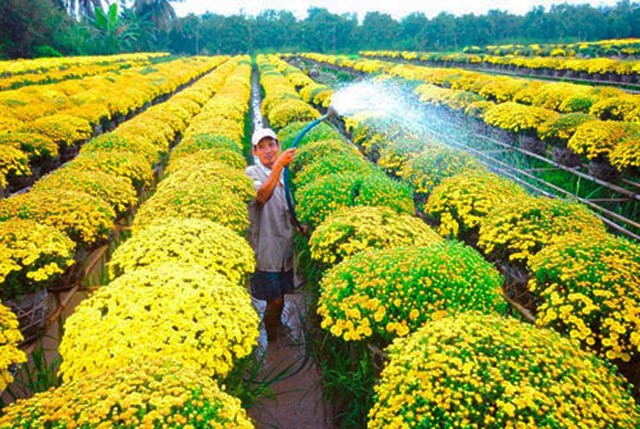 Another place worth visiting in Can Tho is the Ba Bo Flower Village where nearly 250 households in the 20-hectare community cultivate dozens of species of flowers and ornamental plants.
Ninh Kieu Wharf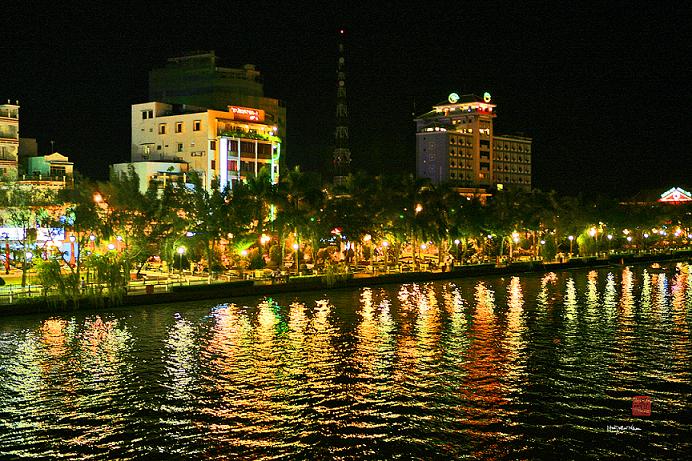 Ninh Kieu Wharf is located on the bank of Hau River, a tributary of the Mekong River, close to the centre of the city. The wharf is the city's main trading centre where hundreds of boats plying the river, bringing products from the rest of the Delta region.
Close to Ninh Kieu Wharf is Can Tho Harbour, which was built according to a modern design and can accommodate ships of up to 5,000 tons. Can Tho Market, which is near Ninh Kieu Wharf, is one of the major markets in the western region of South Vietnam.    
The market is attractive with its floating restaurant located on Hau River. Connoisseurs can enjoy the province's specialities while watching hundreds of boats pass by.
Tay Do night market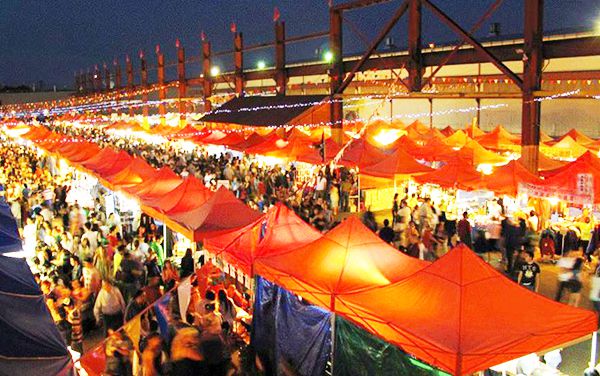 Tay Do Night Market is approximately 1km far from the central of Can Tho City. This market is not only well-known as the trading centre of Can Tho City, but also attractive tourism destination.
In the past, Tay Do night market was a wholesale market, mainly exchanging goods in and out of Vietnam. However, in the recent year, besides the task of exchanging products, Tay Do night market is also used for cuisine and entertainment services. Basing on its large scale and importance, Tay Do night market is recognized as a large trading centre in Mekong Delta.
Tay Do night market is designed in accordance with the landscape around and expresses the Southern style. The market is divided into many stalls of clothes, handicrafts, jewelry, foods… which can meet all the demand of local and tourisms. In addition, there are many interesting activities like games and traditional music shows.
Truc Lam Phuong Nam Monastery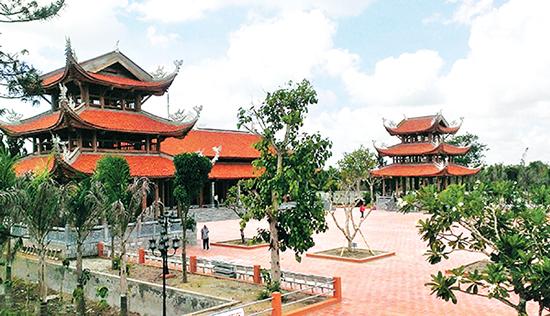 This is the largest monastery in the Mekong Delta, with a meeting hall for about 500 monks. The monastery was built on four hectares in My Khanh Commune, Phong Dien District in the Buddhism architectural style of the Ly-Tran Dynasty in the 11-12th centuries.
Can Tho Museum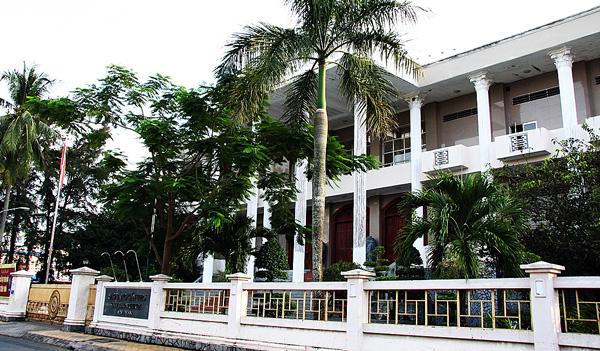 This large, well-presented museum brings local history to life with manikins and life-size reproductions of buildings, including a Chinese pagoda and a house interior. Displays (with ample English translations) focus on the Khmer and Chinese communities, plant and fish specimens, rice production and the war.
My Khanh eco-tourism village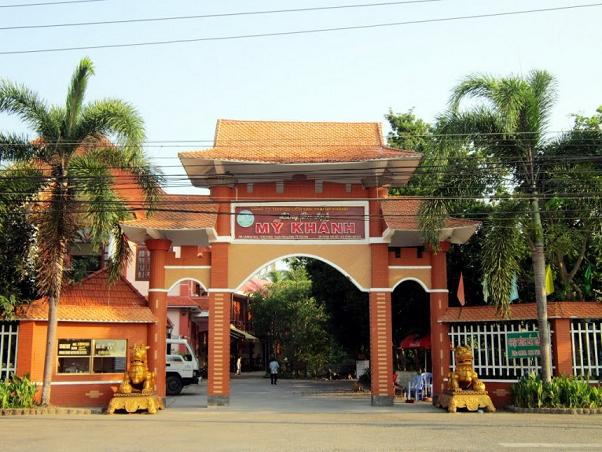 My Khanh tourist village is located at 335 Lo Vong Cung Street, Phong Dien District, about five kilometers from Can Tho City by road or river.
My Khanh village, which was established in 1996, features a garden-style eco-tourist site. The village is a special one in Can Tho which brings comfort and relaxation for any visitor.
Visiting My Khanh Tourist Village, visitors in Vietnam travel can experience the old days of southernlife by taking on the costume of a rich landlord who lived in a big house or of a normal traditional farmer to feel the difference. As a rich landlord, you can enjoy fruit, hot tea and listen to music from a hand-operated gramophone made more than 300 years ago. As a farmer, you are given opportunity to work and prepare meals as southern farmers did in the past.
Another feature that makes My Khanh tourist village special is the 100-year-old southern house that was moved piece by piece from Can Tho's Binh Thuy Ward and reassembled.
At the village, you are served with Mekong Delta specialties such as baby rabbits, snakes, tortoises, bats, cuckoos and crocodiles, etc. The meals include regional fruits such as rambutans, durians, langsats, mangosteens, oranges, tangerines and pomelos.
My Khanh tourist village also provides accommodation in Central Highlands-style stilt houses with 300 well-furnished rooms in all. There are also entertainment services including a swimming pool, and fishing and boating on the river.
Compiled Pha Le