Ba Om Pond, a famous tourist attraction in the southern Tra Vinh Province, has run dry for the first time because of the worst drought in 90 years.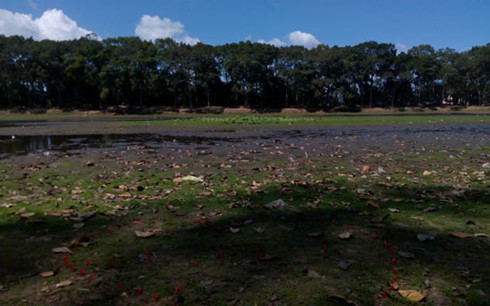 Ba Om Pond, a tourist attraction in the southern Tra Vinh Province, has run dry as a consequence of the ongoing drought and saltwater intrusion. — Photo vov.vn
The pond, about 7km from Tra Vinh City, was famous for its fresh water and surrounding ancient trees. This is the place where traditional festivals of the Khmer people, such as Chol Chnam Thmay, Sen Don Ta and Ok Om Box, are held.
Director of the province's culture, sports and tourism department Tran Thanh Thuong said scant rainfall and lack of dredging of the pond bed had caused it to dry up.
He said the province planned to discuss with Khmer religious officials and the culture ministry the restoration and preservation of the pond, which was recognized as a national relic in 1994.
Local residents and visitors were very upset on seeing the dried-up pond.
Duong Thi Tien, who has a beverage stall near the pond, said the pond had run dry in the last few months.
There were a few puddles and lotus flowers had been replaced by grass, she said.
Ho Thi Ni, a visitor from the southern Ben Tre Province, said she has visited the pond many times, but this time, she was surprised to see the dried-up pond.
The ongoing El Nino weather phenomenon, which began in 2014 and is considered one of the most intense weather phenomena in at least two decades, has been blamed for the severe drought and saltwater intrusion in the central Mekong Delta provinces, such as Ninh Thuan, Binh Thuan, Hau Giang and Tien Giang. It has also caused the amount of rainfall to drop by 10 to 40 per cent, as compared with previous years. 
VNS