A ten-minute boat ride from the ancient town of Hoi An via Thanh Ha pottery village's dock, or over 20 minutes through Cam Kim ferry passing Kim Bong carpentry village, will take you to a little peaceful village trimmed with the green of bamboo. Triem Tay, a new tourist attraction, will bring you to the peaceful and green to taste the flavour of Vietnam's countryside.
With small and clean village streets shaded by trees and flowers, traditional craft communities, pristine and tranquil scenery, and many relics associated with the land's early period of reclamation, Triem Tay is a typical locality that stores its own values and beauty of a pure Vietnamese village.
Here, visitors can experience relaxation or join daily work with locals by walking on small pretty roads, drinking coffee riverside to enjoy sunrise or sunset, fishing with fishermen, flying kites on the banks of the river, and weaving mats or planting vegetables with farmers.
Homestay service also offers guests a chance to stay and enjoy a daily life with hosts to be able to cook their own meals with vegetables in the garden and fish from the river or shop in the village's market. Attentive and hospitable villagers will make you feel at home.
The community-based tour to Triem Tay just kicked off in early September this year but is already very attractive to visitors from both at home and abroad.
Going aboard at Thanh Ha dock.
Peaceful roads shaded by green bamboo.
It's not hard to catch peaceful and beautiful scene like this in the village.
Bilingual signposts.
An ancient house in Triem Tay.
The small market at the entrance to the village where people sell their own vegetables.
Visitors join locals in Quang Nam folk songs.
Traditional mat weaving.
Sailing a boat to the banks of the river for kite flying.
Going fishing with local fishermen.
Visitors enjoy peaceful daily activities in Triem Tay.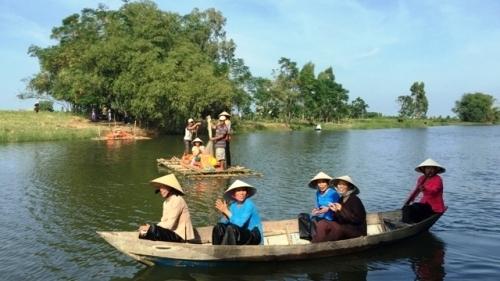 Folk songs sung on the river.
Nhan Dan