VietNamNet Bridge – By the time we arrived at Bau Sau (the Crocodile Lake) in Cat Tien National Park of Dong Nai Province, we had already spent a remarkable morning trekking through 15km of rainy jungle.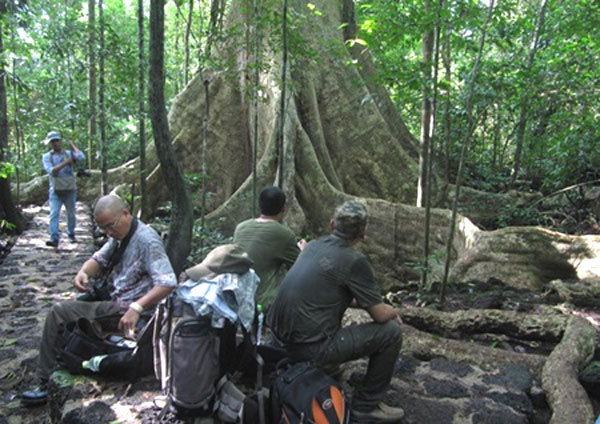 Lots of shade: Trekkers take a stop at a giant tree half way to Bau Sau Lake.
Crocodile Lake, nestled deep into the UNESCO-recognised world biosphere reserve, is only accessible by a 10km pick-up truck ride and then a 5km hike.
With water boots, long sleeves and pants, and heavy douses of bug spray our five-member group and tour guide from the park's eco-tour service centre, Dang Quang Trong, were well prepared for the snakes, mosquitoes and terrestrial leeches populous during the rainy season (between late June and November).
The hike was made easier by the thick umbrella of trees above, sheltering us from the rains. At one point, alerted by the strong smell of urine, we became aware of some langur and gibbon monkeys searching for food overhead.
We stopped several times to snap photos of the green scenery and stamp out a few leeches. Finally, after two hours of wearing out our shoes, we arrived.
Crocodile Lake
"The lake is the biggest one in the lagoon system with its 2,500ha area of water in the rainy season," said Tran Van Manh, head ranger of the Bau Sau station.
Asked where the lake got its name, Manh explained.
"The lake was once home to crowds of fresh water Siamese crocodiles, but the species dwindled to near-extinction due to illegal hunting and human activities," he said.
"Now, the fresh water crocodile species has recovered considerably after 60 individuals were released with the support of a conservation project in 2000," he said.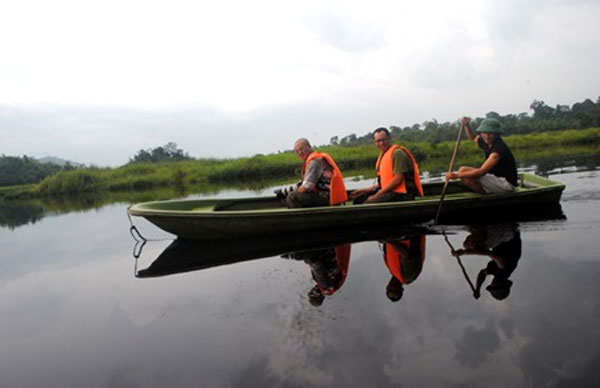 Crocs below: Tourists in a paddle boat take photos of crocodiles in Bau Sau Lake in the National Cat Tien Park in Dong Nai Province. The lake is a favourite destination for adventure tours with trekking in the jungle and exploring the lake. — VNS Photos Cong Thanh
In 2005, the crocodile population showed signs of health, the first native baby crocodile was born since the project's start.
"We have yet to make an official survey of the lake, but about 150 individuals have been born and have grown up. The biggest crocodile is nearly 3m long," he said.
We sat down for a crocodile-diet lunch, eating the same fish the crocodiles enjoy from the lake.
Even though the crocodiles are best seen around 8am or 5pm, we decided to explore the lake anyways. Hard rains prevented us from venturing out in boats to get closer to the crocodiles, but we could still see crocodiles swimming about 50m from our station shelter. One of the bigger crocodiles, about 2m long, came close to the station as it searched for prey near a grassy plot.
Ranger Pham Xuan Linh said, "The fresh water crocodile often reproduces once a year, laying about 40 eggs each. A junior crocodile can grow as long as 25cm and seek food themselves."
Linh said the reproduction rate of crocodiles is only around 40 per cent due to climate change, lack of food and male crocodiles killing junior crocodiles to stop female partners from spending too much time caring for the adolescents.
The female crocodile is very aggressive about protecting its eggs and offspring, he said, therefore the males urge their partners to move onto the next reproductive turn.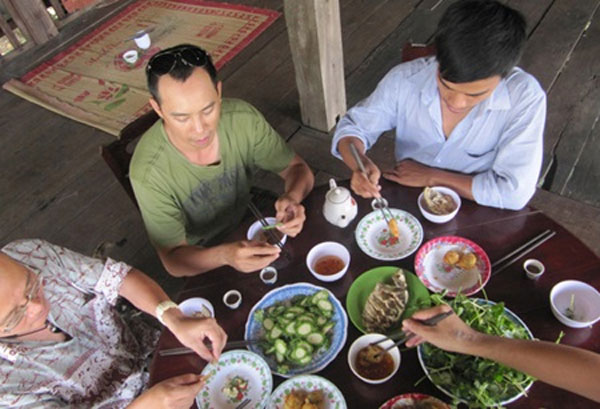 Food all around: A lunch for tourists at Bau Sau Lake.
Linh explained that it's also a way to maintain ecological balance by reducing overcrowding in a crocodile flock that has limited food resources in the lake.
According to park officials, 25,000 tourists have visited the park this year, 5,000 of them foreigners.
Tourists can also visit the park's wildlife rescue centre home to 35 bears, gibbons, leopard and langur monkeys.
Visitors can book a tour at the park's tourism centre, which can easily be reached by bus from HCM City.
VNS