VietNamNet Bridge – Leaving his bag with $7,000 and 3 saving books inside a taxi, a Greek man unexpectedly received his lost assets one week later.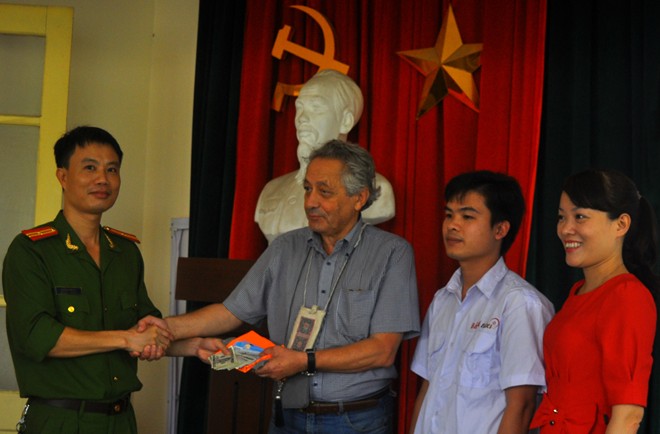 Driver Vu Van Kien (white shirt) and a Cau Dien Ward policeman give $7,000 back to passenger Lefteris. 
On October 31, a driver of Bac A Taxi named Vu Van Kien, 28, took three foreigners from Le Thai To to Phan Boi Chau Street, Hoan Kiem District, Hanoi.

It rained heavily so the three passengers left the taxi hurriedly. Running for a few hundred meters, driver Kien saw an orange cloth bag on the back seat through the mirror.

He returned to Phan Boi Chau Street to return the bag to the passengers but he could not find them. He came back to the company and checked the bag together with his managers. They found $7,000, three savings books and other things inside the bag.

Kien then informed the police Cau Dien Ward, Nam Tu Liem District and the VOV Traffic audio channel to find the owner.

After several days of searching, on November 6 Cau Dien Ward police handed over the property to Vlassopoulos E. Lefteris, 69, who is working in the northern port city of Hai Phong.

Lefteris said he was very surprised to receive the lost bag because he did not expect to find it.

This man has been working at a company in Hai Phong for five months. Every weekend he went to Hanoi to visit his friends or travel.

Two employees of Phong Nha-Ke Bang National Park suspended for attacking British tourist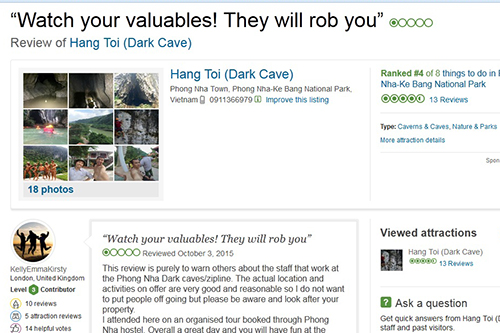 The article posted on TripAdvisor by the British female tourist. 

In another case that is also related to foreign tourists, two employees of the National Park of Phong Nha - Ke Bang have been suspended from work for investigation of the accusation made by a British female tourist against them.

Nguyen Van Ky, deputy director of the Department of Culture, Sports and Tourism of Quang Binh Province, said that the two male employers were suspended for investigation after a British tourist posted an article on TripAdvisor, saying that she was forced to pay ransom for her lost camera during her tour in the Dark Cave in the Phong Nha-Ke Bang National Park in Quang Binh, Vietnam.

Ky said if the accusation is correct, the two employees will be punished strictly, even fired.

According to the tourist, named Emma Kirsty Kelly, she dropped a GoPro camera near the water edge during her trip in the Dark Cave in late October. She did not expect to get it back but then a man brought it to her hotel room and demanded VND3.2 million ($150). 

"The staff seemed so genuinely upset for me and the reception girls asked me to leave my personal details so they could contact me if one of their divers found the camera. I didn't expect them to find it and forgot all about it thinking it was my mistake dropping it," she wrote on TripAdvisor.

"When I questioned him about where he got the camera from and the price he was demanding he got really irate and started shouting at me. He claimed the staff at Phong Nha caves had sold it to him and therefore I had to pay the stated price," she wrote.

She said that when she insisted the amount was too much, the man started attacking her, throwing her against a wall twice, ripping her top off and raising his fist.

"In the end I just begged him to get off me and leave me alone so I paid him in full. He left me with cuts and bruises," she wrote.

She found that two men had posed for selfies on her camera and did not delete them.

Based on the time on the photo, the tourist believed that her camera was found while she was still in the cave.

"I had a great day at the caves but obviously this incident left me feeling very upset and disappointed in the staff. The actual location and activities on offer are very good and reasonable so I do not want to put people off going but please be aware and look after your property," she wrote.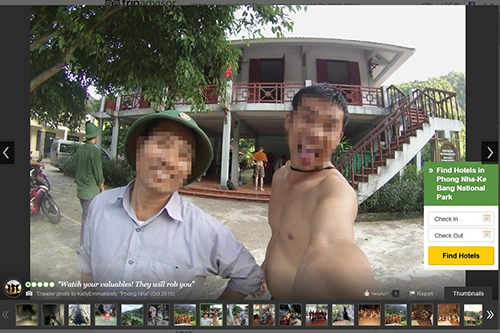 The two men on the selfies photo were identified as two staffs of Phong Nha-Ke Bang National Park. 

The two men on the selfies photo were identified as two staffs of Phong Nha-Ke Bang National Park. 

The man who returned the camera to Kirsty is Nguyen Manh Hung (the half-naked man in the photo), a tour guide at Phong Nha Farmstay. This man said that he had bought the camera from Khanh, who works at the cave, for VND3 million ($140). After seeing the photos in the camera, he found its owner and wanted to collect from her the amount he had paid Khanh, but the tourist disagreed, he said.

Hung said the tourist snatched the camera and put it in her bag, so he tried to take back the camera and the tourist fell on the ground while being pulled.

The other man, Khanh, said that he had found the camera while diving for a hat. Hung took the camera home before paying Khanh VND2 million, though Khanh did not sell the camera. Khanh said he finally took VND1.5 million for diving but Hung also paid him the remaining VND500,000.

According to the national park's regulations, any official or employee has to report to relevant agencies when they find items lost by tourists and return to them.

Le Ha