VietNamNet Bridge – Jun Hamlet has come up with a new type of community-based tourism co-operative in Lien Son Town, Lak District, Dak Lak Province, generating employment and stable incomes for locals who are the proud owners of the most unique and famous as well as the largest number of elephants in the locality and within the country as a whole.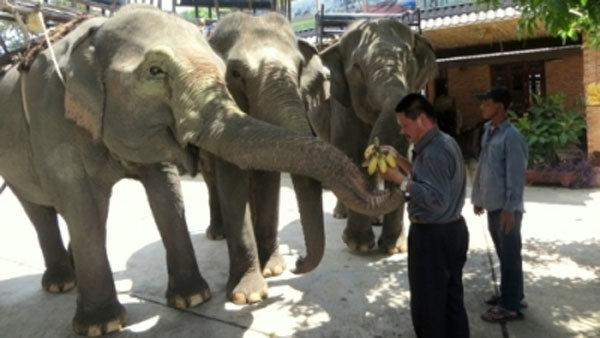 The main stars of Jun hamlet's 'elephant' tourism co-operative in Lien Son Town (Lak District, Central Highlands province of Dak Lak). 
The reason why people call it an 'elephant' tourism co-operative is because members of the co-operative, who are mostly Mnong people, use their 18 trained elephants as the main contributors to the co-operative's tourism activities.
'Elephant' capital for tourism
Introducing the tourism co-operative based in Jun hamlet, Chairman Bui Van Duc noted that Mnong people have resided alongside legendary Lak Lake following the famous tradition of elephant domestication and breeding for centuries, yet they are still struggling with poverty. As the owners of the land, they rely on agriculture as their main source of income even though there are favourable conditions present for economic development in other industries, such as tourism.
For that reason, when moving from Hue to live in Dak Lak in 1977, Duc came up with the idea of using the beauty of Lak Lake and it's primeval forests for tourism purposes. At that time the number of tourists coming to Lak Lake was still limited due to transport and road issues. However, the intention of developing tourism in the province always inspired Duc.
In 1990, National Highway No. 27 connecting Buon Ma Thuot City with Lak District and Lam Dong province opened to traffic, resulting in an increasing number of visitors to the Central Highlands. Duc encouraged elephant owners in Jun hamlet and the neighbouring areas to open tourism services such as scenic elephant rides and kayaking on Lak Lake to serve tourists.
Innovative and unique tourism services encouraged domestic and foreign tourists to flock to Lak District. However, Duc was not satisfied with the tourism industry in Dak Lak that was still in small-scale and lacked investment. "Elephant tourism is a unique product but was irrationally exploited. Elephant owners scrambled to take advantage of time and elephants to make money. So, the health of the elephants quickly dilapidated, leading to illness and death; simultaneously, neighbourly relationships also became fractured due to competitive tourism" Duc said.
In 2005, Duc founded the Jun hamlet's tourism co-operative, opening a new direction for tourism development in Lak District. Households owning elephants and kayaks were encouraged to join the co-operative with their contributed capital coming from their elephants and kayaks. The co-operative management board organised tourism promotion activities and introduced the co-operative's tourism products with the public, as well as scheduled working plans for elephants and kayaks in a reasonable manner.
From only seven members at the beginning, currently the co-operative has 38 members, of which 95% are ethnic minorities, managing 16 elephants, 20 kayaks, eight longhouses and a gong collection. In addition, the co-operative also signs service contracts with 50 families in Jun, Le and M'Lieng hamlets in Lieng Son Town. The co-operative's services are varied, including elephant rides exploring the famous sights of Lak Lake and the pristine waterfalls of Chu Yang Sin national park; visiting Mnong ancient villages and King Bao Dai Palace on Lak Lake; kayaking tours exploring the lake; and homestays with ruou can (stem wine) and gong performances.
Thanks to efficient operation, the majority of the co-operative's members earn a relatively stable income, with an average of over VND8 million a month for each elephant household and VND4 million for kayaking households. Y Me from Le hamlet, who has contributed his 'elephant' capital to the co-operative, said that: "Elephants join the co-operative but are still private property of the co-operative member. For each passenger traveling with elephant between 1 and 1.5 hours, the elephant owner could obtain from VND200,000-250,000, so each elephant can earn VND6-8 million per month or more for its owner. The co-operative also limits daily schedules to no more than eight hours of work for each elephant; during the remaining time of the day they are allowed to wander the forests.
Tourism in association with conservation
Siting on the front porch of the ancient longhouse in the breeze blowing from Lak Lake, Chairman Duc said, "Every month the co-operative welcomes from 1,000-1,500 tourists, more than half are foreign travelers. Tourists always book elephant riding tours to enjoy the scenic beauty of Lak district. Therefore, the co-operative board wishes all locals in the three hamlets of Jun, Le and M'Lieng to join the co-operative for employment, stable income and tourism development".
The co-operatives have registered with related authorities for construction of some accommodation-service combined facilities to meet the needs of visitors, but the plan has been halted due to undefined locations and land lease prices. In recent years, the living environment of the elephants has been destroyed due to natural forest areas around Lak Lake have been logged. The co-operative has demanded natural forest areas for a Dak Lak elephant conservation centre yet the project is still yet to take shape. If the situation lasts much longer, elephants in Lak District will grow old and die. Furthermore, many degraded longhouses are in lack of funding for repair.
Jun co-operative has recommended to authorities to develop support policies facilitating tourism development linked to elephant preservation and traditional culture conservation; in particular, continuing to nurture elephants via tourism activities to facilitate elephant owners to provide better care for elephants.
In addition, the co-operative has invested in homestay tourism with a highlight on traditional craft development and cultural identities such as Mnong stilt houses, longhouses, gongs, and cultural activities, as well as enacting traditional rituals like Water God worshipping, seasonal celebrations, and rituals praying for elephants' health.
With the above activities, the co-operative not only creates jobs and raises the income of its members, but also contributes to the conservation of elephants, traditional culture, and ecotourism trademark development for Lak District, while attracting more and more domestic and foreign tourists to the locality.
Nhan Dan