Vietnam has a varied and delicious cuisine that has been recognised on many world rankings, and in culinary and tourism magazines around the world. However, it is important to continuing promoting Vietnamese cuisine.
Convergence of cultural values
Each food has a story, and is the crystallisation of the country's diverse and long-standing culture. For example, through the traditional cakes banh chung (square glutinous rice cake) and banh day (round glutinous rice cake) that symbolise the sky and the earth according to Vietnamese legend, visitors can gain an understanding of the country's rice civilisation.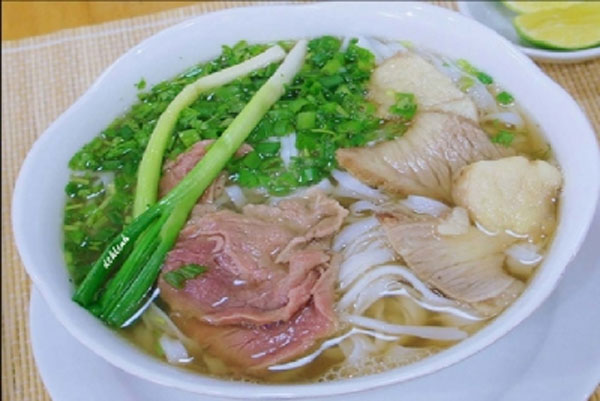 Hanoi's 'pho bo' (beef noodle soup) 
Vietnam's many regions each have different specialties imbued with local flavor, playing off the local geography and culture. Spiritual and cultural values across Vietnam are transmitted through food.
Vietnam has many beautiful beaches and unique cultural heritage, but it is truly the cuisine of Vietnam that sets it apart from other countries.
Concerns about promoting Vietnamese cuisine
The new slogan, 'Kitchen of the World', should be used to promote Vietnamese cuisine around the world, said Vietnam's veteran diplomat Ton Nu Thi Ninh.
Ninh is also concerned about establishing Vietnamese restaurants at five star hotels in the country. There are many Chinese, Thai and European restaurants; however there is a lack of restaurants featuring only Vietnamese dishes at luxury hotels.
Street food is a popular part of Vietnamese cuisine. Ho Chi Minh City's banh mi (sandwich), Hanoi's pho bo (beef noodle soup), nem cuon (spring rolls), Hue's bun bo (Hue style beef noodle soup) and bun cha (rice noodles served with grilled pork) have been honoured by numerous tourism magazines.
An US-based culinary website has listed 20 famous Vietnamese food that foreign visitors must try when they visit Vietnam, including pho, bun bo, mien ga, nem cuon, bun cha and cha ca (fish paste).
However, it seems that these street dishes are not considered high-end food and they are not featured in luxury restaurants and hotels. Visitors to Vietnam who want to enjoy the original flavours of these traditional dishes have to sit on sidewalks.
Vietnam has a lot of potentials and natural resources available to help develop its tourism industry; but making cuisine part of the national tourism brand could be an effective and cheap option to promote tourism at the present.
Vietnam should use cuisine to make tourism in Vietnam different from other countries in the world, increasing the country's position in international arena. There are more than 10,000 Vietnamese restaurants in foreign countries, particularly in Europe and America, creating a strong opportunity to promote Vietnamese cuisine to the world.
The Vietnam General Department of Tourism should encourage luxury restaurants and hotels in the country to promote Vietnamese food, and contribute to developing cuisine as a strong part of the national tourism brand, according to diplomat Ton Nu Thi Ninh.
She also emphasised that it is only food that can reflect the past, present and future, as well as the cultural and spiritual essence of the nation.
Additionally, relevant agencies should focus on ensuring quality and hygiene, as well as the aesthetics of both luxury and popular restaurants in the country.
There are already crowded streets that attract numerous foreigners in major cities like Hanoi, Hue, Nha Trang and Ho Chi Minh City. Tourists enjoy the original flavour of local specialities as well as being immersed in the daily lives of the local people, offering them a fresh and exciting experience.
Nhan Dan/VGP