Tourism experts said preserving cultural values and heritages are crucial to sustainable tourism development in the Greater Mekong Sub-region (GMS).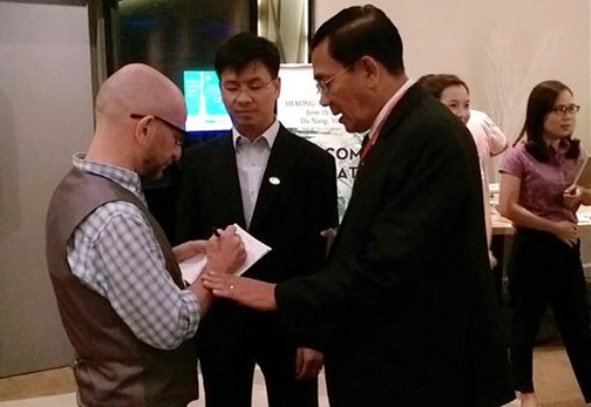 Delegates are seen discussing on the sidelines of the Mekong Tourism Forum 2015 in Danang last week.
Representatives of tourism agencies and organizations of different countries shared lessons about sustainable tourism development on the final day of the Mekong Tourism Forum 2015 in Danang last week.
The UNESCO has recognized various natural heritages and sites of great cultural value in the GMS, which groups Cambodia, Laos, Myanmar, Thailand, Vietnam and China's Yunnan and Quangxi provinces, heard the forum. This region has attracted a large number of tourists and investors.
Le Khanh Hai, Vietnamese deputy minister of Culture, Sports and Tourism, told the forum that with natural and cultural wonders, the GMS is expected to woo more than 70 million visitors and post tourism revenue of nearly US$90 billion in 2020 compared to the current US$60 billion.
To realize the numbers, the region should develop unique and diverse tourism products, intensify marketing and spend more on infrastructure to meet rising demand of both tourists and investors.
Hai called for institutions including the Asian Development Bank to provide more financial and technical support for the region, particularly small and medium enterprises, to contribute more to tourism development.
Delegates at the forum urged concerted efforts to protect and preserve heritages, especially the structures along the Mekong River, as this is one of the important elements that help the region ensure sustainable tourism development. However, the region is facing a lot of challenges.
Peter Semone, technical adviser to the Lao Academy of Tourism, pointed out overexploiting the Mekong River is a major challenge to the region. It is important for governments to cooperate in making the most of the GMS and at the same time conserving original heritages and cultural sites in the region.
Semone said the region is diverse in terms of culture and natural heritages, has rich soil and is a living museum of the world. "We need to turn this region into an attractive destination of the world and a place to discover wonders," he said.
However, the GMS is coping with fierce competition, not only among nations of the region but also with other regions. One of the biggest challenges is that the region is losing many cultural values and heritages.     
A lack of skilled workers and infrastructure is among the major challenges for sustainable tourism development in the region. Many investors have complained it is difficult for them to recruit qualified employees and implement tourism projects.
SGT