VietNamNet Bridge – A trip to Cam Mountain on a newly launched cable car system is recommended for tourists to the Mekong Delta province of An Giang on the occasion of Ba Chua Xu Festival which takes place from June 6 to 10.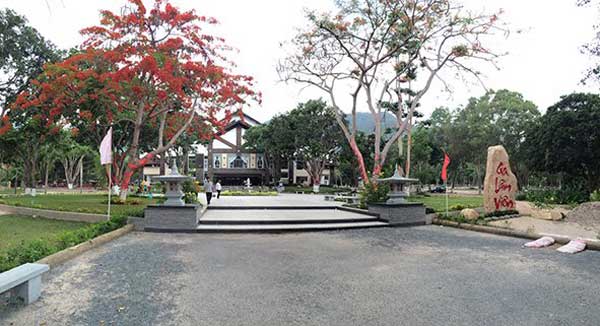 An entrance leading to Cam Mountain's cable car station in the Mekong Delta province of An Giang
The cable car system to Cam Mountain which was invested by the An Giang tourism development firm is located in An Hao Commune, Tinh Bien District of An Giang Province. Cam belongs to the seven-mountain range, the roof of the Mekong Delta region.
The system is 3.5km in length with two stations and 89 cabins that can transport eight people each. The VND300-billion project was designed by French firm Pomagalski with a capacity of 2,000 people an hour.
Tourists who sit in a cabin to the peak of Cam Mountain which is about 710m above sea level are able to admire the immense rice fields in beautiful green and yellow colors under the sunlight and some clusters of huge palm trees in a distance and a panoramic view of the popular Seven Mountains - Thien Cam Son, Ngoa Long Son, Ngu Ho Son, Phung Hoang Son, Anh Vu Son, Lien Hoa Son and Dai Anh Son. They can also see wild birds flying across some giant trees and streams winding through some giant stones in a forest under their seats.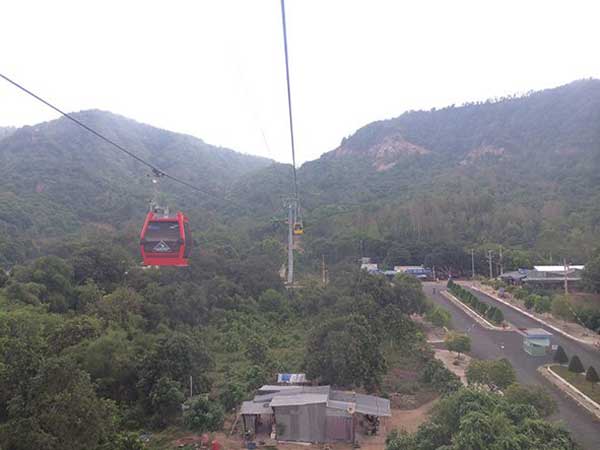 Cable cars are seen at Cam Mountain
Lately, a 5D cinema has been put into operation at Cam Mountain tourist site to serve kids and travelers. On the occasion of Ba Chua Xu Festival, there is a promotion for guests who buy ten tickets to the cinema will get one free. Tourists will also enjoy don ca tai tu (southern opera performances) and local specialties of Vietnamese-style pancake with ostrich egg (banh xeo trung da dieu), grilled ostrich, grilled mountain chicken, and che thot not (palm sugar sweet soup), among others.
The site has Huong Nui and Ngon eateries, and Lam Vien Hotel to serve guests. The two-way cable car ride costs VND155,000 per adult and VND80,000 per child, down from the previous VND180,000 per adult and VND110,000 per child.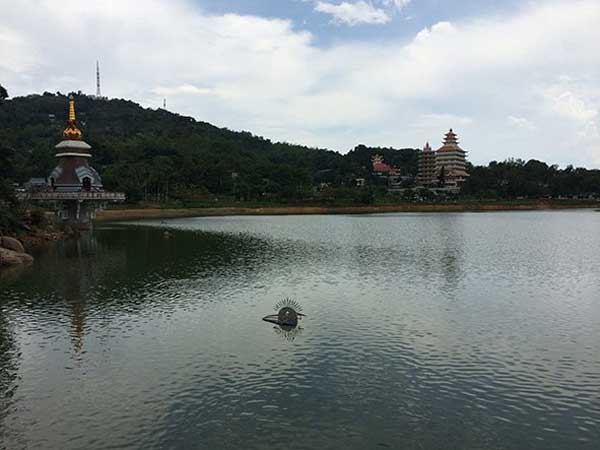 Peaceful Thuy Liem Lake on the mountain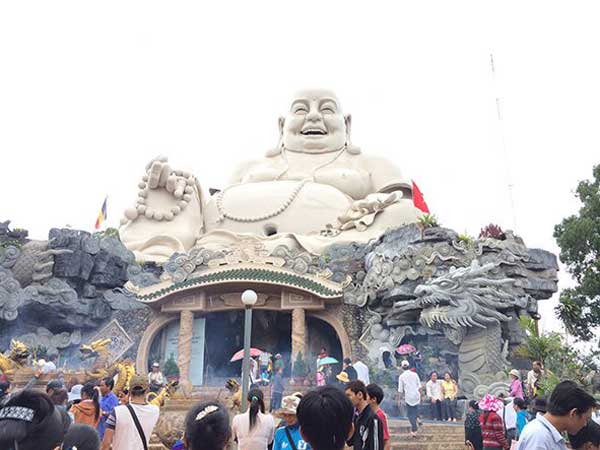 People head to Asia's biggest statue of Happy Buddha which is located on the peak of Cam Mountain
One-way tickets to the mountain peak are priced at VND100,000 per adult and VND55,000 per child while the tickets for the opposite direction cost VND80,000 per adult and VND45,000 per child.
It is expected that 5.6 million to 6.5 million people will visit An Giang Province a year from 2015 to 2020.
SGT