Tra Su Cajuput Forest in An Giang Province, around ten kilometers from the Vietnam-Cambodia border gate, is one of the most popular tourist sites in the Mekong Delta.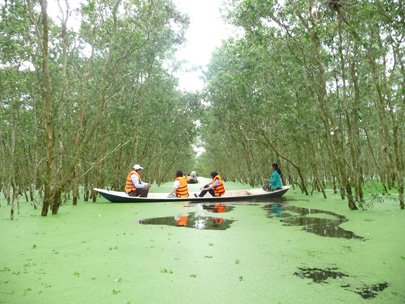 Covering 845 hectares in the center and 643 hectares in peripheries, the forest is a national reserve and home to numerous types of fauna and flora in Van Giao Commune, Tinh Bien District.
The best time to visit Tra Su Cajuput Forest is in the flooding season from July to December, according to one of the forest guides. At this time, large areas of the forest become lakes that tourists can explore by motor-boat; some couples also come to make wedding photo albums.
The forest has 106 colonies of water birds, bats and various rare and endangered animals and reptiles and a few of them have been listed in the Red Book, and over 140 flora species.  
To visit the site, tourists will depart in a composite boat for about 20 minutes, drifting along the cajuput forest as they witness the vast water hyacinth over the immense water surface. The tourists will be transferred into smaller wooden boats to get to the egret garden.
They will also have a chance to witness various species of birds and egrets hovering in the sky and perching on cajuput trees' tops. The green trees, dark water of aluminum and voice of birds in harmony with nature makes the trip not only worthwhile but unforgettable.
A 23m bird-watching tower stands in the middle of the forest with a telescope for visitors to zoom in on some of the colonies of water birds. For just VND5,000, tourists have three minutes to enjoy the spectacle.
SGT