VietNamNet Bridge – Located about 150 kilometers from Ha Giang City, Dong Van kermis in the town of the same name has for years been a must-visit destination for tourists to the northwest region.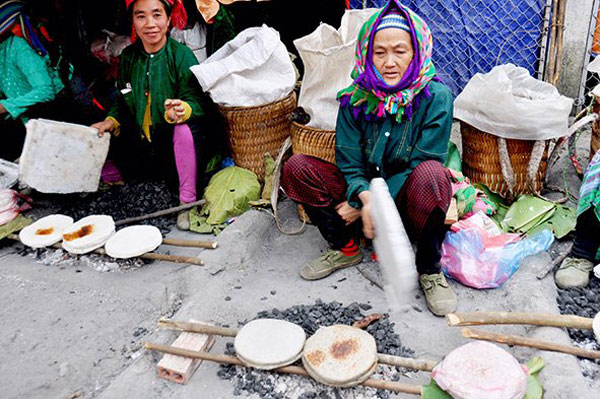 Ethnic women bake buckwheat cake in the middle of the kermis
Opened every Sunday, Dong Van kermis is the largest market of Ha Giang and the northern midland and upland region as a whole. Built by the French in 1920, the kermis is a diversified and unique cultural feature as it is the weekend gathering place of ethnic minority peoples from the four districts on Dong Van rock plateau.
Over time, Dong Van kermis has undergone a lot of changes, including a new market on 1.4 hectares and an entrance to the market, which have added a modern touch to the unique Dong Van kermis in this rural area.
However, for those who visit the kermis the first time, Dong Van market of ethnic minority groups in Ha Giang City still looks exotic.
Around four o'clock in the morning, one can see colorful costumes of ethic people looming on the passes. They are from minority groups such as H'Mong, Dao, Tay, Nung, Lo Lo and Bo Y. They rush to Dong Van Town in time for the Sunday kermis. Some people come along with cows, some with dogs, and some with vegetables, trees and leaves for cooking and medical use. The atmosphere is like that of a festival.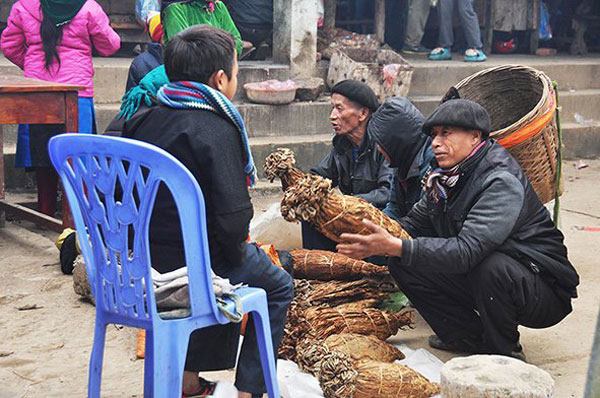 Ethnic men sell home-grown farm produce at the kermis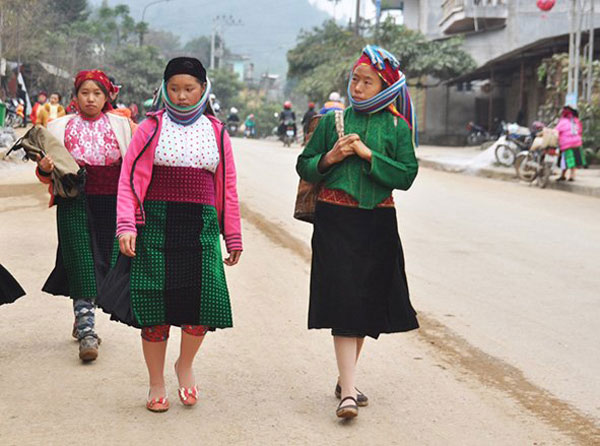 Young ethnic women on the way to Dong Van kermis in their colorful dresses 
Several young women who are there just for fund carry umbrellas and look as charming and beautiful as city lasses.
Agricultural products at the market are all home-grown.
Visitors can find specialties such as chao au tau, a rice porridge with pork and special herb which has a bitter taste; thang co, a specialty recipe of the H'Mong ethnic minority, xoi ngu sac (five-color sticky rice), and banh cuon trung (steamed rice cake with egg). They should not miss the baked buckwheat cake which is baked on the spot at Dong Van kermis.
SGT