Almost all visitors to An Nhon Town in the central province of Binh Dinh are impressed by the bamboo prawns displayed for sale at 364 Ngo Gia Tu Street. They look so much like real prawns.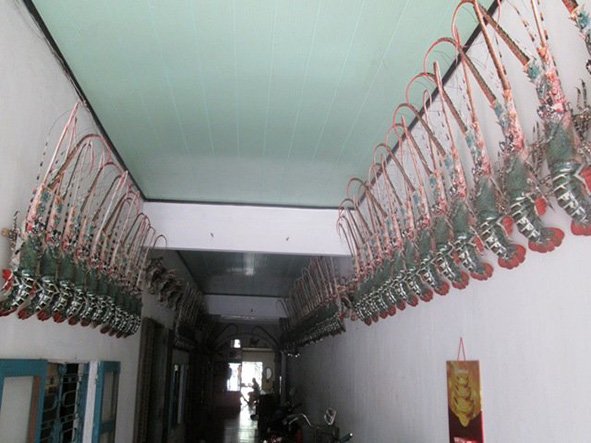 The creator of the unique prawns is Nguyen Minh Chau, 87, who earned a national handicraft award at a handicraft trade fair in the central coast province of Quang Ngai.
His son Nguyen Phuc Son said a long time before making prawns from bamboo, his father had been well known for his skills of making handicrafts such as cotton sparrows and clay paintings.
But people later were less interested in his cotton sparrows and clay paintings, so Chau tried making other handicraft products. One day, a new idea of making prawns from bamboo came to mind as he saw the back of a prawn and bamboo sections much the same.
"At first, 90% of prawns were made of bamboo while clay was used for the rest. The first bamboo prawns sold well with revenue enough to feed my family and expand business," Son recalled.
Over time, customers have set out stricter requirements. Therefore, Chau and his family have worked hard and long to create prawns that are more beautiful, are of higher quality and look real.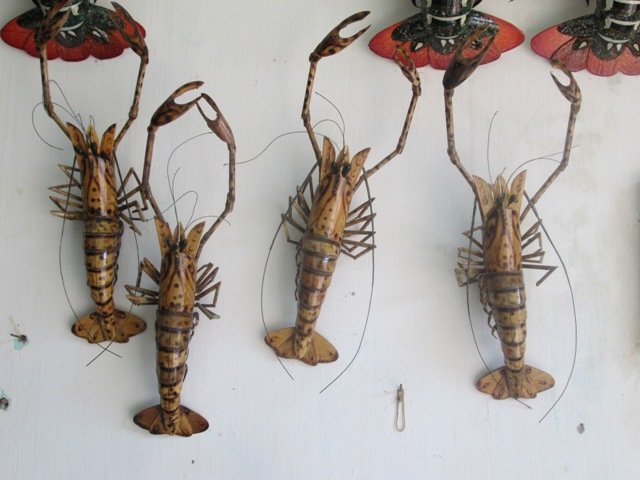 Around one half of the bamboo prawns at Chau's shop now are made from clay and the other half from bamboo. They are priced at VND350,000 to VND1 million (US$16.4-46.8) a pair depending on size. The largest prawn is 750 millimeters long, excluding its antenna.
The hardest part in the process of making a bamboo prawn is to ensure a natural curve for the prawn's back, Son said. In doing so, chosen bamboo sections must be perfectly round and of different sizes. Then, those sections are cut and arranged in a way that makes the back of the prawn look real. The tails of the prawn is made of small pieces of bamboo which are cut into thin slices, polished and arranged in the shape of the prawn tail.
Apart from prawns, customers can also find crabs and storks made from bamboo at Chau's store.
In An Nhon, visitors also have the opportunity to drop by other craft villages such as Nhon Loc village where Bau Da alcohol, a specialty of Binh Dinh Province, is produced, An Thai village where the famous Song Than vermicelli is made from mung beans, and Nhon Hau village which is home to wood processing facilities that export their goods to China and Taiwan.
SGT