Asiaplus Tours, an in-bound tour operator in Pham Ngu Lao Street, Hanoi, is designing a tour to enable visitors to taste Dong Tao chicken, which is well-known for its weird look and delicious meat.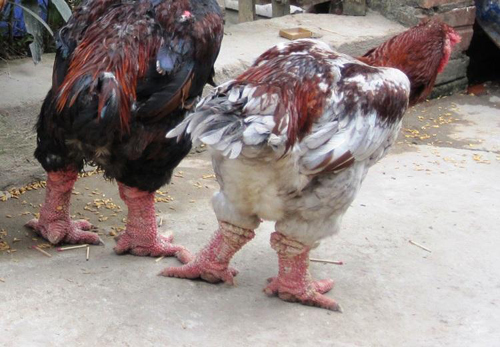 The chickens, native to Dong Tao commune, about 30km from Hanoi, in Khoai Chau district, Hung Yen province, were specially bred to serve the royal family and mandarins. Nowadays, they are bought by the rich.
"The bird is in high demand but also in short supply," said Van Dinh Ha, a chicken farmer from Trung Dinh hamlet told Vietnam News.
"They are very sensitive to weather changes and produce few eggs for reproduction. It takes eight months to one year for a small chick to become a sellable bird of three to five kilograms.
"My birds attract many people from neighbouring Hai Duong, Bac Giang, Bac Ninh and Hanoi," he said. "The sales are so good that now there are only two roosters left in the coop. Last year, my income from chicken rearing was up 60 percent," Ha said.
Customers like the chicken not only for its crispy, lean, delicious meat but also its odd look with huge legs, which can reach the size of an adult's wrist, Ha said, adding that some like to keep them as pets, even using a silver chain to tie them up.
Luu Minh Chinh, 27, is a trader who deals with chicken-rearing households. His home is frequented by visitors arriving in expensive sedans.
"In 2012, the Japanese prince Akishino visited my commune to see the chickens. Since then, the Dong Tao chicken has enjoyed even greater publicity," he said.
Chinh's business has also received attention from the travel agency Asiatours Plus, said Tran Tho Binh, vice director of the company.
Binh said that his plan was to bring four tour delegations to Dong Tao each month. The tourists, who are chiefly from Europe and America, will spend half a day in the village, watching the chickens and enjoying meals prepared from chickens they hand-pick.
Binh pins high hope on this tour service as a way to diversify his tour products in the northern region.
VNA