VietNamNet Bridge – Tourists to Quy Nhon City in the central province of Binh Dinh should drop by Hoang Hau (Queen) Beach since it is known as the most beautiful beach in Ghenh Rang tourism site.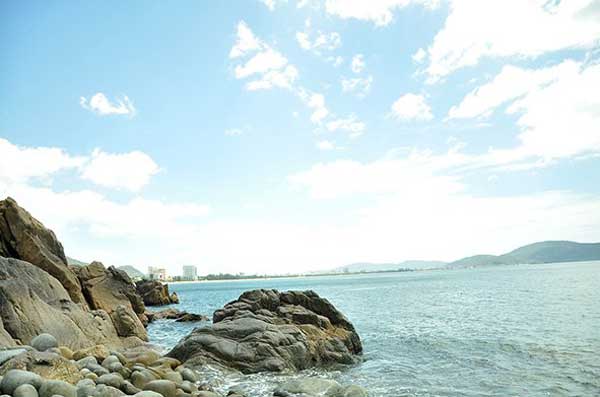 Glamorous Hoang Hau Beach in Quy Nhon City.
The beach is around two kilometers from the provincial city where tourists can take a taxi or choose to travel along a smooth and winding road leading to the tourism site by motorcycle. Travelers often come and visit Quy Hoa leper colony where renowned poet Han Mac Tu spent the last days of his life as well as his grave before heading for the beach.
There is always a good reason for saying that Hoang Hau Beach is the most glamorous. What makes the beach unique and distinct is the round stones like a giant bird's eggs with different shapes and sizes that cover hundreds of square meters. This is why the beach used to be called Da Trung (stone egg) Beach.
The name of Hoang Hau Beach is associated with a historical event which is cited on a headstone in dual languages. Legend has it that Hoang Hau Beach was chosen by Queen Nam Phuong, the wife of the last king of feudal Vietnam, Bao Dai, as a perfect place to rest. Its name has become famous among local folk and tourists.
Hoang Hau looks like a beautiful hidden fairy. There are stairs leading to the beach where tourists can enjoy cool water and the sound of wind and waves. From the beach visitors can also see Phuong Mai Peninsula and spectacular Thi Nai Bridge.
Hoang Hau Beach is absolutely appealling to all visitors to Quy Nhon City of Binh Dinh Province.
SGT/VNN