VietNamNet Bridge – Quang Ngai Province is located in the central coastal region, bordering Kon Tum Province and the Truong Son mountain range to the west, Quang Nam to the north, Binh Dinh to the south and the East Sea to the east, with a coastline of more than 140km.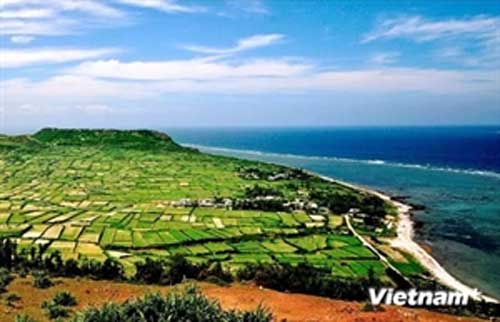 A view of Quang Ngai's Ly Son island from Thoi Loi mountain.
It boasts numerous clean and beautiful beaches, including Khe Hai, Nho Na, An Cuong and Thanh Thuy in Binh Son District, My Khe in Quang Ngai City, Minh Tan in Mo Duc District and Sa Huynh in Duc Pho District. Additionally, visitors can explore the beautiful beaches of Ly Son island district, which comprises Lon (Big) island and Be (Small) island.
The first beach to explore is My Khe beach in Quang Ngai City. My Khe beach was previously part of Co Luy Village, Tinh Khe Commune in Son Tinh District, but was merged with the city of Quang Ngai in April 2014. The beach lies approximately 14km northeast of the city centre and is reachable via Highway 24B and near Sa Ky port. It is approximately 16km from Dung Quat port and 3km from the historical site of My Son.
The beach is 7km long and ideal for swimming with its smooth sands and a slight slope. A deep green poplar forest grows next to the beach, which is close to the Kinh River, renowned for its nipa palm forest. The forest was used as a revolutionary base for officers and guerilla fighters from Tinh Khe Commune and Son Tinh District during wartime.
My Khe beach has become popular with tourists in recent years.
On the way to My Khe beach, tourists can visit the historical site of My Son, where photographs and relics of the US troops' massacre of 504 citizens are on display. They can also pay their respect to national hero Truong Dinh at his temple in Tinh Khe Commune and to the former acting President Huynh Thuc Khang at his tomb on Thien An mountain.
Quang Ngai Province is now working on a master plan to develop the 342ha My Khe tourism resort, which includes My Khe hotel, an entertainment complex and a camping site.
Sa Huynh beach is located in Pho Thach and Pho Chau communes, in the southernmost part of the province, 60km south of Quang Ngai City. Sa Huynh was previously called Sa Hoang, which means yellow sand, after the colour of the beach. However, it was changed to Sa Huynh since the word "hoang" is associated with Lord Nguyen Hoang under the Nguyen dynasty.
Sa Huynh is the most beautiful and cleanest beach in Quang Ngai. It is famous for its salt fields, which are important not just for the province but the entire central region.
The beach is easy to access, since the Highway 1A passes it to the north and south. Many hotels have been built along the beach to provide accommodation.
Sa Huynh beach is nearly 6km long with no reef. It is ideal for swimming and playing.
Sa Huynh beach borders Chau Me beach and cliffs in the south, and Dao Khi (Monkey Island) in the northeast, attracting a large number of visitors at the weekend and during holidays.
Additionally, Sa Huynh is renowned for its "mam nhum", a sauce made from sea urchins which was offered to the King as a specialty.
Visitors to Sa Huynh can try the local dishes Cua Huynh De or Hoang De (King crab). Each weighs 0.5-1kg and is bright red.
When visiting Sa Huynh, tourists should stop by the Sa Huynh Cultural Museum to gain insight into the region's ancient culture, one of the three cradles of civilisation in Vietnam, alongside Dong Son and Ooc Eo cultures. Therefore, a visit to the museum is an indispensable part of any tour.
Khe Hai or Thien Dang beaches in Binh Thanh Commune, Binh Son District, 35km north of Quang Ngai city, borders Rang beach in Quang Nam province. Khe Hai beach boasts blue waters and smooth white sands with vast casuarina groves. In the west is a mountain projecting into the sea like a semi-circular bow embracing the coast.
From Khe Hai, visitors can go by boat to Hon Tra and Hon Ong islets to explore caves and rock pools, collect shells, and fish.
Heading south to Binh Tri and Binh Chau communes, visitors arrive at Nho Na Bay and the untouched beaches of Thanh Thuy, Le Thuy and An Cuong, as well as Ba Lang An Cape and My Han Bay with blue waters, soft waves and yellow sand banks. These are beaches attractive to holiday makers.
Another choice for tourists to Quang Nam Province is that a voyage by taking speedboat from Sa Ky port to Ly Son island. In the most famous destination visitors can visit the beaches in the East (An Hai District) or go to Be island (An Binh Commune), 3 nautical miles from Ly Son Island, to explore pristine landscapes, clear blue waters, and magnificent coral reefs.
Tourists can also visit a number of tourist attractions and historical sites, including the 300-year-old Hang pagoda, Duc Pagoda with a 27-metre Bodhisattva statue overlooking Be island, the impressive architecture of Lang Chanh Temple, and An Hai and An Vinh communal houses, where local residents hold the traditional "Le khao le the linh Hoang Sa" ceremony to commemorate the sailors of the Hoang Sa (Paracel) flotilla.
Visitors can also climb up the national flagpole at Thoi Loi peak, from where they can enjoy a panoramic view over Ly Son island, its villages, and its local speciality onion and garlic fields. They can also visit a dozen of ancient houses, and the Hoang Sa and Bac Hai Monument and gallery in the district.
In recent years, in addition to visiting the famous beaches, tourists have come to see the Dung Quat Oil Refinery, the first of its kind in Vietnam.
VNA/VNN