Floods improve Mekong scenery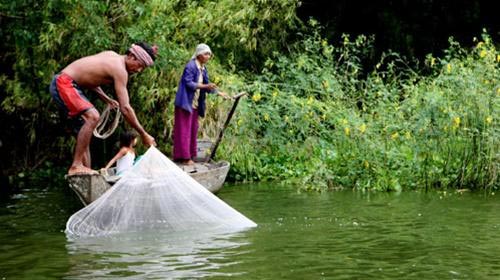 With its vast cajeput forests and beautiful scenery, the Gao Giong Eco-Tourism Area in the Mekong Delta is an attractive destination, especially in the flood season.
Situated 20km away from Cao Lanh city in Dong Thap Province, its 1,700ha of cajeput forests include 200ha of primeval forests in Gao Giong Commune.
Its 36ha bird park is the largest stork sanctuary in Dong Thap Muoi (Plain of Reeds), with the sight of the birds perched on the cajeput trees creating stunning vistas.
During the flooding season, Gao Giong looks like a green oasis with cajeput trees stretching to the horizon. One can see images of pink lotus flowers and white and purple water lilies when seated in a boat and rowing around its canals.
The yellow common sesban, an edible speciality flower that blooms in the flood season, is also found here.
First Vietnamese travel website launches
The first Vietnamese travel website dedicated to assisting consumers booking of air tickets, hotels and tours– www.gotadi.com – officially launched on September 18.
At present, Gotadi.com has connected with Vietnam Airlines and more than 900 airlines from around the globe, 2,000 domestic hotels and 400,000 international hotels.
Customers can enjoy a wide variety of promotions from travel operators when they book tours through the website.
The website also provides online shopping, a list of travel offices and a directory assistance center 1900 9002.Gotadi.com was founded with the participation of Hospitality Group (HG) Holdings-a leading travel group in Indochina.
Hanoi tourism jumps 14.6% in eight months
In the eight months leading up to September the Hanoi Tourism Association successfully organized a record number of visits to Australia, Russia and Western Europe with the aim of promoting both inbound and outbound tourism.
Speaking at a conference on September 18, Vice President of the Hanoi Tourism Association Ta Minh Hung added that despite some ups and downs, overall leisure tourism (both domestic and foreign) attained remarkably good growth during the eight month period.
As a result of the East Sea dispute, foreign arrivals in Vietnam dipped 19.94% on-month in June to 539,776 according to official statistics, Hung said.
However, the market quickly rebounded in July and August, and in the eight month period nationwide tourism jumped up 12.2% on-year to 5.4 million foreign arrivals. Hanoi alone experienced a record 14.6% rise in tourism to 1.6 million foreign arrivals.
Hanoi Tourism Association leaders are continuing to coordinate with the Ministry of Culture, Sports and Tourism and relevant local authorities to develop new tours, especially to the more famous spots and natural heritage sites, he said.  
At the event, the Hanoi Tourism Association added four new members: Vinaventure club, AZ Gift, Large House Co. Ltd and New Sake restaurant.
Dong Nai park features lovely views
Located around 35km from HCM City, the 84ha Buu Long Tourist Park in Dong Nai Province's Bien Hoa city is an ideal tourism destination with its mountains, forest, ancient pagodas, and Long An Lake, which is dubbed a "miniature Ha Long Bay".
The 10ha lake, formed as a result of stone mining by locals, has clear water and huge rocks with trees growing on them that look like islets.
Buu Long Pagoda on Binh Dien Mountain, which is part of one of the two main mountain ranges there, is thought to be one of the three oldest pagodas in the province.
The park, recognised as a national heritage site in 1990, offers amusement in the form of rowing, fishing, camping, and mountain climbing.
Standing atop one of the park's mountains, a visitor can see Bien Hoa city and the Dong Nai River meandering among paddy fields far below.
Tay Ninh eyes tourism development
To promote its tourism potential, Tay Ninh Province in northwest of HCM City will invest in major tourism areas like Ba Den Mountain to develop entertainment facilities, an eco-park, and festival and spiritual tourism.
Located in the 24sq.km Nui Ba complex – which also has two other mountains – Heo and Phung – the 986-metre Ba Den is the highest mountain in Viet Nam's southeastern region.
The Nui Ba complex is famous for its beautiful temples, pagodas, caves, sceneries, and intriguing legends.
Tay Ninh also has other attractive destinations like the Cao Dai Great Temple – the main cathedral of the Cao Dai religion – the 27,000ha Dau Tieng Lake, and Lo Go – Xa Mat National Park. The province is home to Moc Bai international border checkpoint with Cambodia.
An Giang's annual ox races to begin
The annual Bay Nui ox race in the Mekong Delta province of An Giang begins next Monday.
The three-day race in Tinh Bien District is held on the occasion of the ethnic Khmer people's Sene Dolta Festival to worship their ancestors, one of their most important festivals.
The contest will see ox pairs take on each other in a series of knockout races. They will run on an 8m-wide track that is submerged in ankle-deep water.
Every year the race attracts thousands of locals and tourists because of its excitement and unique nature.
Last year 64 pairs of oxen from An Giang and the neighbouring provinces of Kien Giang and Soc Trang took part.
VNS/VNA/VOV