VietNamNet Bridge – A Hanoi-HCM City direct air route, which was once described as "impractical" by the Civil Aviation Authority of Vietnam (CAAV), has come closer to reality as the Cambodian and Lao governments have pledged to create favorable conditions for Vietnam to use Cambodian airspace on the route.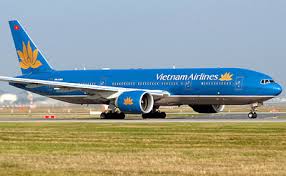 Vietnamese Minister of Transport Dinh La Thang on August 21 had talks with Cambodian Deputy Prime Minister Sok An during a working visit to Cambodia.
The two sides came to an agreement to create favorable conditions for the establishment of direct air route between Hanoi and HCM City that would fly across Cambodian airspace.
Following the agreement with the Cambodian government, the next steps to establish the direct air route will be taken by government agencies of Vietnam and Cambodia.
The two sides have also agreed to create favorable conditions for Vietnamese and Cambodian airlines to open new air routes between the two countries.
In the immediate time, Vietnam Airlines will consider opening a Phu Quoc Island (Vietnam) – Siem Reap (Cambodia) route, while VietJet Air plans Hanoi/HCM City – Siem Reap and HCM City – Phnom Penh routes.
Prior to the meeting in Cambodia, Vietnam also reached an agreement with Laos on the opening of the direct air route between Hanoi and HCM City over Lao airspace.
This more direct and shorter route has been discussed for years, as flying across the Lao and Cambodian airspace will help airlines save money and time.
Since it is expected to bring big economic benefits, it is often called the "golden air route" by Vietnamese engineers.
The direct air route through Lao and Cambodian airspace was officially put forward by Dr. Tran Dinh Ba, a Vietnamese engineer from the Vietnam Economics Association.
He stressed the necessity of establishing a new air route to replace the current round-trip route, on which airplanes only fly in Vietnamese airspace.
Also according to Ba, airlines now waste 26 minutes of flying time to fly from Hanoi to HCM City on a Boeing 777 on the current air route, which equals 25 percent of the production costs, while the costs are 28 percent for flights from Hanoi to Can Tho City and 38 percent for Hanoi-Phu Quoc Island.
Thus, airlines "burn $300 million every year". These routes explain why airlines do not make profits with domestic flights, but do so with international air routes.
CAAV, however, had remained indifferent to Ba's proposed air route plan, saying that the suggested plan was unfeasible because Ba's estimates were based on insufficient information.
Local newspapers then quoted officials from the Ministry of National Defence as saying that it would be a big problem to ensure safety for the flights on the route.
Pham Tuan Loc, an air traffic control officer, also said on VnExpress that Ba only considered the issue from an economic angle, while there are many relevant matters that need to be analyzed.
VNE