VietNamNet Bridge - Many products have been traded through generations at Ben Thanh Market in HCM City, adding to the attractiveness of this 100-year-old market.
1. Handicrafts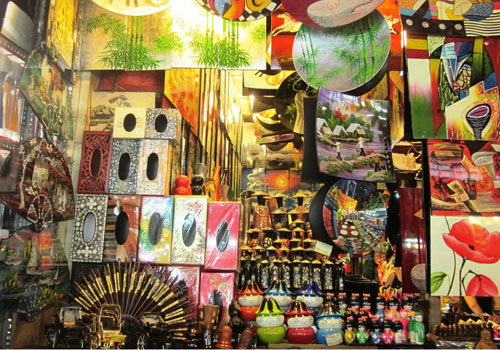 In Ho Chi Minh City, Ben Thanh is the top market for trading handicraft items. This business has been handed down for many generations. International tourists can always be found buying souvenirs at Ben Thanh.
2. Curry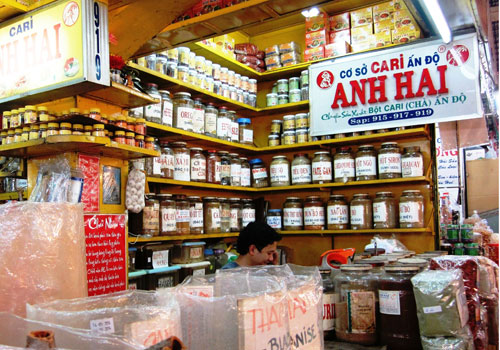 This is also a special product traded at Ben Thanh Market. At other markets, curry is sold alongside other kinds of spices and there are only a few major kinds of curry. But in Ben Thanh, curry comprises a distinct family of products, with dozens of types and different flavors.
The curry shop named Anh Hai (Mr. Hai) has registered its own curry trademarks and it has been passed down through three generations, from the Indian father-in-law to Mr. Ly Luan and now his children. The family has created tens of types of curry. Their products are supplied to many restaurants and supermarkets in HCM City.
3. Fabric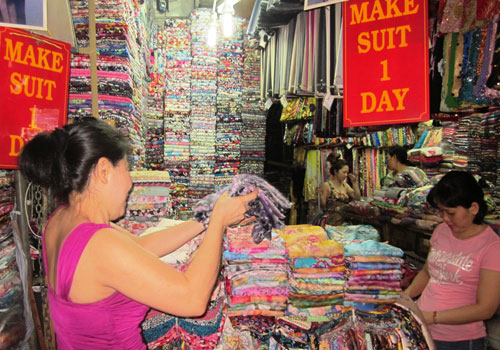 Instead of just selling cloth as other retail markets do in HCM City, the fabric stalls at Ben Thanh Market are also tailor shops. They will deliver clothes to the customer within a day. Ms. Ngoc Giau, the owner of one fabric shop, says this is the way to help foreign customers save time and get satisfactory products. The price for each item ranges from ten to over 100 US dollars. Giau's stall has also been passed down through two generations.
4. Seafood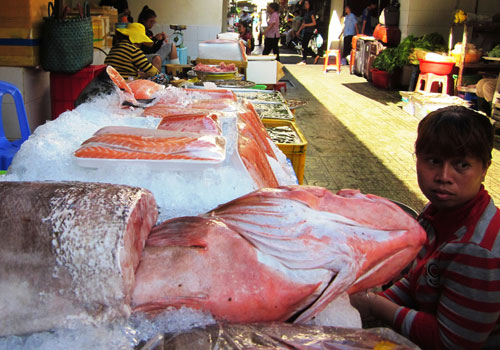 Seafood in this market is also more special than in other markets in the city. The seafood booths are displayed in very eye-catching styles and they offer various types of fish, including fish weighing up to several tens of kilos. According to traders, the big fish are bought from Phan Thiet and they are mainly sold to big restaurants.
5. Da Lat vegetables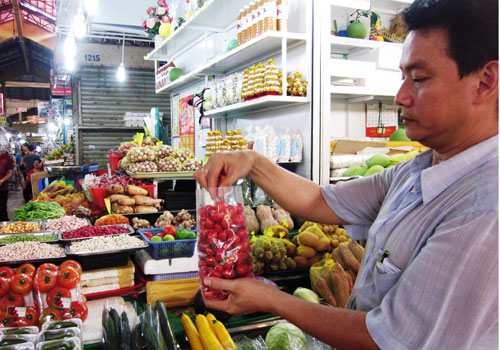 In other markets in HCM City, vegetables are brought in from various sources, but Ben Thanh has shops that sell vegetables only from Da Lat, with certificates of origin.
6. Bun suong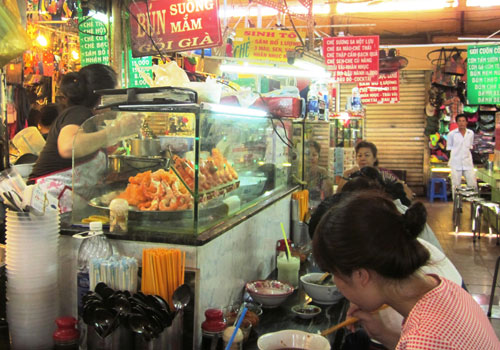 Bun suong (noodle) is a unique dish that is only available at Ben Thanh Market. The shop that sells bun suong has also survived through three generations.
Ms. Van, granddaughter of Mrs. Mai, the first seller of bun suong in the market, says that her grandmother learned the secret to preparing this noodle from a man from the southern province of Vinh Long. The secret was then transferred to her mother and now to Van.
The price of a bowl of bun suong is VND65,000 ($3.10). One bowl has two pieces of "suong" (shrimp and thac lac fish powder) and one shrimp.
7. Coffee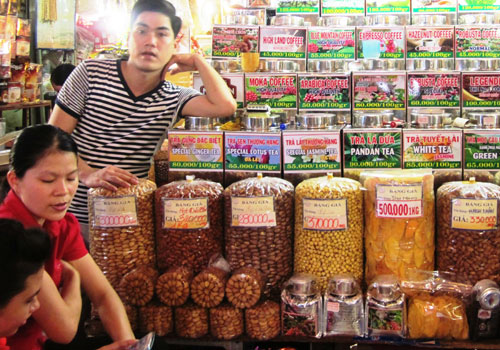 In other markets, traders buy processed coffee to sell, but at Ben Thanh, coffee stall owners purchase coffee beans and grind the coffee on site. Each seller has his own processing formulas to create different coffee flavors. The most famous coffee brand in the market is Thoi Vinh. This shop's products have been exported to many countries.
Pha Le