The Viet Nam Football Federation (VFF) and Viet Nam Professional Football Joint Stock Company (VPF) yesterday decided to temporarily suspend the V-League match between Ninh Binh and Hoang Anh Gia Lai scheduled for tomorrow because of a match fixing investigation.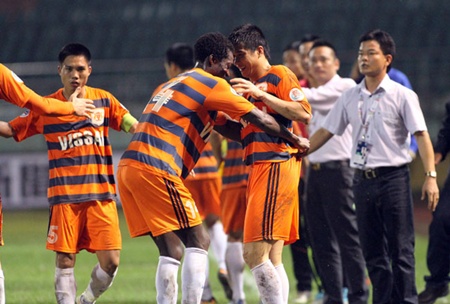 In an official document sent to the two organisations, Ninh Binh sought permission to pull out of this running season and said this was in order to investigate allegations of match-fixing by their footballers.
"In fact we have not enough information and are waiting for the police to make a conclusion. Ninh Binh officials gave us reports about players who competed unexpectedly in recent matches," said Viet Nam Football Federation General Secretary Le Hoai Anh yesterday.
He added that Ninh Binh had not yet pulled out of both domestic and international tournaments.
Anh said there were regulations about quitting and that the case would be thoroughly examined, adding that he acknowledged the club's efforts to fight match fixing.
"We try our best to combat fixings and will always support teams with the same point of view," Anh said to reporters after the urgent meeting with the club's manager, the VPF and police in Ninh Binh Province.
It is the first time a V-League match has been delayed.
The VFF Chairman Le Hung Dung will make a report to AFC president Salman Bin Ibrahim Al-Khalifa as the team has won a spot to take part in the knock-out round of the AFC Cup.
Earlier, Pham Van Le, chairman of the club, confirmed the problem and said: "We suspect that our players are involved in match-fixing. Over the past few months, we have received information related to the team's results in both Asia's second tier Asian Football Confederation (AFC) Cup and the V-League. The team's boss Hoang Manh Truong got furious and decided to stop all activities of the team to investigate the matter. We have requested the police to make things clear."
The doubted matches are Ninh Binh's 1-3 loss to Quang Ninh and 2-5 defeat to Binh Duong in the V-League, and 3-2 win against Malaysia's Kelatan in the AFC event.
The team have had three wins and one draw at the AFC Cup for a berth in the second round.
In the V-League, Ninh Binh rank at 11th out of 13 teams and have seven points after eight matches.
According to Pham Ngoc Vien, VPF's general director, this is unprecedented in Viet Nam's football history. It means the team will stop playing in football events.
VFF vice chairman Tran Quoc Tuan, added that Ninh Binh would be subject to strict fines and that the prestige of Viet Nam would be diminished. Leaving the league, the team will be relegated to the lowest level of third division, while their results from this year will be cancelled. The team will also be slapped with a VND100 million ($US4,700) fine.
Yesterday, police began interrogating some of the footballers believed to be involved.
"I was in a state of shock after hearing that my teammates had fixed matches. I don't understand why they did so. I wish fans would know that foreign players are implicated in this issue. I still want to play football in Viet Nam, said striker Patiyo Tambwe.
According to a source, the players involved have admitted to receiving a total of VND800 million ($38,000) to fix the match against Kelantan.
VNS/VNN