The World Bank (WB) on April 7 snubbed the possibility of providing loans for Vietnam to build a stadium or other sports facilities for Asiad 18 and also predicted that the Government would not ask for credit for this purpose.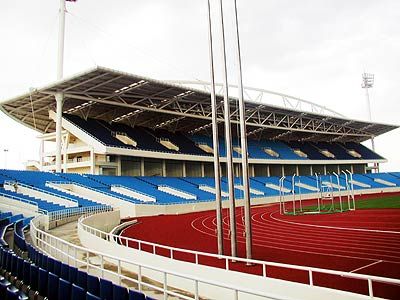 My Dinh National Stadium.
Speaking to the Daily at a meeting held in Hanoi on April 7 to announce the East Asia Pacific Economic Update report, WB country director for Vietnam Victoria Kwakwa stressed that giving loans to building Asiad facilities was not a goal of the WB. However, the WB would not comment further on the issue as whether to host the 18th Asian Games is up to Vietnam.
In its report, the WB said that Vietnam was facing accelerating financial challenges due to falling tax revenues. Last year, the State budget deficit was up from 4.8% to 5.3% of the country's gross domestic product (GDP), surpassing the Government's deficit target at 4.5% of the GDP in the 2011-2015 period.
The Government has cut expenditure for development investment from 10.8% of the GDP in 2012 to 7.3% last year while reducing subsidies and spending on goods and services.
Vietnam is coping with fiscal troubles, Kwakwa said.
According to the Ministry of Finance, the nation's tax revenues last month neared VND58 trillion versus a spending of over VND82 trillion. In the first quarter of this year, the budget deficit hit VND37 trillion.
The Government is expected to make a decision on whether to host Asiad 18 within this week. The Ministry of Culture, Sports and Tourism estimated around US$150 million would be spent on the event while some experts said that the real figure could be much higher.
Le Dang Doanh, former head of the Central Institute for Economic Management, said he was not behind the Asiad 18 hosting plan as preparations on the part of relevant authorities are not good enough.
Minister Culture, Sports and Tourism Hoang Tuan Anh last month said that the cost for hosting the Games would not exceed VND3.15 trillion, or US$150 million, with 72% of it from the private sector and the remainder from the State budget.
However, how to raise funds from the public, according to Doanh, is not clearly explained by the ministry.
SGT/VNN