VietNamNet Bridge – Playing very well at the International Junior Championships in Manila (Philippines), Ly Hoang Nam has entered the 50 ITF Junior for the first time. He is also the first Vietnamese achieving this success.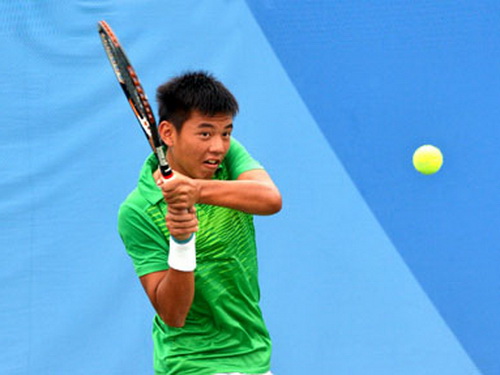 Top junior tennis player of Vietnam - Ly Hoang Nam.

At the ITF tournament in the Philippines, Nam entered the men's singles quarter-finals and was awarded 60 points.
In the men's doubles, Nam and Bobrov (Russia) also won the right to compete in the semi-finals. In the game against the pair that then won the championship - Klintcharov (New Zealand) - Purcell (UK), Nam - Bobrov tied in the first two sets with the score of 3-6, 7-5 but they lost 3-10 in the decisive set. This achievement got Nam - Bobrov 50 points each.
The success at the tournament in the Philippines brought the total point of Hoang Nam to 406.25, ranking 49th in the ITF top 50 junior.
This is the highest rank a Vietnamese player has achieved in the ITF ranking list for U18 players. The previous highest position of Nam was 52nd.
Through this promotion, Nam is in the top 10 Asia, along with seven Korean players and three Japanese players. He also ranks number one in Southeast Asia for the U18 group.
Nam Nguyen