VietNamNet Bridge – The Vietnam Football Federation (VFF) split with Italian coach Sergio Gargelli and is about to sign a three-year contract with the Spanish coach Bruno Jose Garcia Formoso.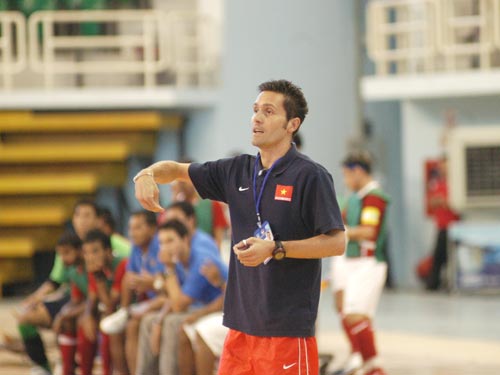 Italian coach Sergio Gargelli.
Failure to elevate the Vietnam futsal team is the main reason leading to the leave of Coach Sergio Gargelli. Ahead of SEA Games 27, the Italian coach repeatedly affirmed that Vietnam had a chance to overthrow Thailand. However, his failed tactics in the final resulted in the 1-8 collapse of the Vietnam futsal team.
Shortly after the final, the head of the Vietnam futsal team – Mr. Tran Anh Tu said that the contract of coach Gargelli would not be extended.
The VFF will sign a contract with Spanish coach Bruno Jose Garcia Formoso, whose contract with the national futsal team of Peru has just expired from January 2014.
Coach Bruno Jose Garcia Formoso was born in 1974 like his Italian predecessor, but he is praised to be more experienced and have outstanding qualifications.
The three-year contract is considered long enough for Formoso to help Vietnam futsal make progress in the regional arena. Formoso is also expected to play a leading role in the construction of the route to take Vietnam futsal to the World Cup.
The women's futsal team of Vietnam will also have a Brazilian coach in the near future, who will focus on training young players.
Nam Nguyen