VietNamNet Bridge – On June 10, Vietnamese grand master Le Quang Liem became the tenth World Blitz Chess champion.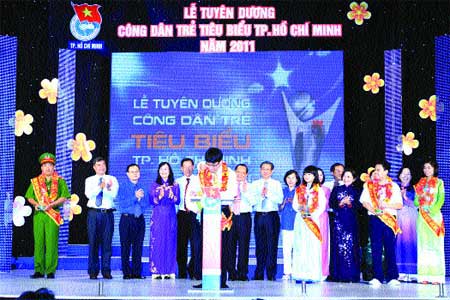 Standing ovation: Le Quang Liem is joined by dignitaries, fans and officials on stage to celebrate his June 10 success at the World Blitz Chess championship, where he became the tenth player to win the coveted trophy.
All winners are legends of world chess. They include Levon Aronian of Armenia, Magnus Carlsen of Norway and twice champion Alexander Grischuk of Russia.
Liem, despite several lesser titles, including becoming International Grandmaster at the age of 14, has never been in the top 20.
He is the first title holder from Viet Nam and second from Asia after Viswanathan Anand of India who won in 2000.
The victory of the Vietnamese was not only a surprise for chess fans but also the master himself.
Last month, at the Ugra Chess Academy in Khanty-Mansiysk, Liem fought against 60 rivals from 18 countries to win the title.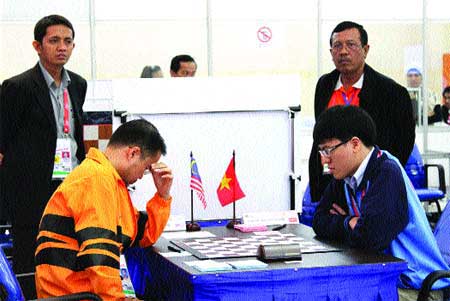 Face off: Le Quang Liem looks studious as he goes head-to-head with a Malaysian opponent at the recent championships where he managed to come out on top.
"You know, this result was a big surprise for me. When I was coming here I did not even think about victory. There are lots of strong chess players who are famous all over the world. I just wanted to see what will happen and who will become the champion," said Liem afterwards.
"In 2012 when I played in the Aeroflot tournament, I played badly though I was fifth on the starting list. And on the final list I was not even in the first 50 players," he said.
"Today, I did not play very well but with each game I improved. By the end of the day, I started to play more confidently, making less mistakes."
The road to gold for the newlycrowned master was not easy.
The tournament followed the Swiss pairings system, and consisted of 15 double rounds. The time control was three minutes and two seconds increment.
Russian grandmaster Ian Nepomniachtchi and Liem were leading with 12 points out of 16 games after the first day. But the distance to the nearest competitor, Ukraine's Ruslan Ponomariov, was only half a point, while the chasing group were very close.
Liem was the leader at the beginning of the second day when opponents played 14 matches. However, before the last round, Ponomariov and Liem shared the same points of 19.5, with Ponomariov ranking higher because of a better sub-index.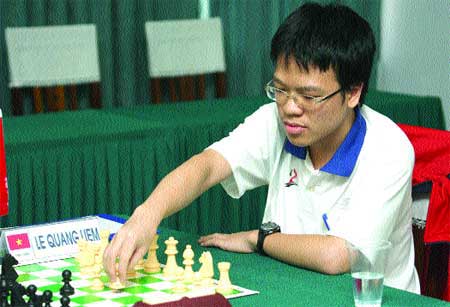 In the zone: Le Quang Liem, the nation's number one chess champion plays a match in HCM City.
A victory over Sergey Movsesian of Armenia in the last round brought the gold medal to Liem, who earned 20.5 points totally. Ponomariov made a draw in the last round against another Armenian, Gabriel Sargissian.
Last year's winner Grischuk took the silver, while the bronze went to Ponomariov. Both of them finished the championship only half a point behind Liem.
"Ahead of the last round, chances to win were open for several masters. I started my game as usual and tried to limit my mistakes. In some moments, I fell into difficult situations. Fortunately I took use of my few opportunities to win," Liem said.
"It is the biggest success in my life. It happens once in a while when someone wins the world champion's title," he said. "Today's success will not only give me energy for my future career, but also will help the chess development in my country."
The victory of the HCM City-born player received strong support from his team-mate, former U10 champion Nguyen Ngoc Truong Son, who finished fifth overall with 19.5 points.
Son defeated and tied with strong masters, including defending champion Grischuk, to clear the way for his team-mate.
Apart from the gold, Liem brought home US$40,000, the biggest ever bonus cash that he has made. Son pocketed $18,000.
The Vietnamese victory made headlines in many newspapers and websites - and a hot topic on chess blogs.
The chess.about.com wrote: "Liem has spent most of the last few years on the edge of the world elite. He's never cracked the Top Ten on the FIDE rating list or been considered among the top tier of players, but he's also been above 2,700 for quite a while now, and has proven that he can compete with anyone in the world.
"At just 22 years of age, Liem has already built a rather impressive list of accomplishments, including two consecutive wins at the Aeroflot Open.
"While it seems very unlikely that he'll become a world championship contender, Liem certainly gives Viet Nam a creditable board one in international competitions like the Olympiad, and it would be interesting to see him invited to a couple more super-tournaments to see how he fares.
"His previous results at Dortmund were very positive, particularly his second-place finish in 2010."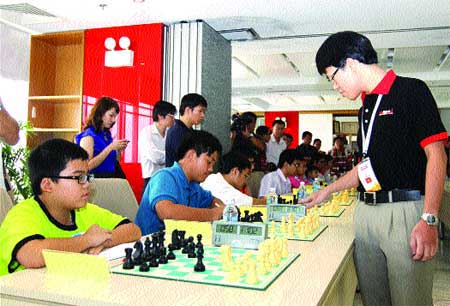 Picking up the pieces: Grandmaster Liem pits his wits against 20 of his fans (aged 6-32) simultaneously in an exchange match held on March 6 by the Viet Nam Chess Federation and HDBank.
Novuie Izvestia, a Russian newspaper, described Liem as a Spartan warrior. News agencies Itar-Tass, Mosnews and Prensa Latina, the news agency of Cuba, all reported on Liem's win.
In Viet Nam, chess experts and fans took off their hats to Liem.
"I did not dream about this. I thought that it would be too good for Viet Nam to have a player in the world top 10, but now we have two chessmen in the top five," said Nguyen Minh Thang, head of the chess division of the National Sports Administration.
Coach of the national team Le Hong Duc also said he was surprised, although Liem and Son were strong in rapid and blitz chess which requires quick reactions.
"I did not watch Liem play, but I believe his champion title was admirable. It is a surprise to all of us, but comes from his hard-working process," said women's grandmaster Le Thanh Tu.
Mai Ba Hung, deputy head of the City's Culture, Sports and Tourism Department, said Liem's win was really impressive. City and department officials welcomed and presented a certificate of merit to Liem at the airport when the team arrived home on June 12.
The Vietnamese star will participate in the Asian Indoor Games and the World Cup in Tromso in Norway in September.
He is about to go to the US for studies this August after receiving a four-year $35,000 scholarships from Webster University.
Viet Nam has dominated the South-east Asian region in chess for many years, especially in junior groups, proving the country is the hub of chess in the area.
At the SEA Age Groups Chess Championships that ended on Thursday in Thailand, the Vietnamese took the lead with a total of 71 gold medals for masters from Under eight to Under 20.
"Chess came to Viet Nam about 30 years ago and has made remarkable progress," said Liem. "Some Vietnamese masters can now play equally with international rivals.
"Up to the age of 16, athletes can grab achievements mainly due to their aptitude. But in my opinion, there are still shortcomings such as a lack of methodical training. There is also lack of official attention from the sport authority."
The Viet Nam Chess Federation does not have a regular budget. It depends on the generosity of the Phuong Trang Group for most of its support. But their money must be split between chess, Chinese chess and Go.
"The main problem is to find sponsors. Unfortunately chess is not so popular in our country as other sports, for instance football. In Viet Nam, there are no long-term sponsorships," Liem said.
Liem became an International Grandmaster at the age of 14 after winning the world U14 title. It is worth noting that he was not the youngest to achieve this honour. In the following years, the master harvested many titles from tournaments.
Liem's attributes his success to family support. His parents had to pay for Liem's training course with foreign experts as well as fees for him to compete abroad.
Liem needs at least $30,000 to compete in about 10 international competition each year. He is also lucky to receive support from HCM City's Sports Department, which has pledged to share expenses with his family.
However, while one year older than Liem, grand master Son receives no backing. His family cannot afford to help and his home town in Kien Giang Province has offered no sponsorships.
Son, who was said to have inborn talent, now trains with lower-level team-mates or through the internet. Sometimes, he is sent on short-term training abroad whenever the national team prepares for an international event.
Son was once one of the world top 10 young masters and needed only one point to enter the world top 100. Now he is far away from that dream.
Both Liem, Son, like many other masters, compete without their own coaches. One of the rare sponsorships they received was $200,000 from the Viet Nam Chess Federation to spend in five years.
Nguyen Minh Thang, head of the chess section of the National Sports Administration of Viet Nam, partly agreed with Liem.
"The training system is much better now, but there are still other reasons for the problem," Thang told Viet Nam News. "To produce an elite athlete, not only in chess but also in other sports, we need the co-operation of the athlete, their family, coaches and sponsors. All must try their best.
"However many athletes give up. Parents do not want children to stick with sport and enterprises often find little benefit when they sponsor chess," he said.
A few years ago, the federation planned to build a chess academy in Ba Ria-Vung Tau Province to boost the game in Viet Nam. However, a lack of money means the plans are still on paper.
Talking with reporters after winning the world title, GM Liem said: "It would be really great if our country would organise big chess competitions at a high level."
But at present, the chances seem slim.
Source: VNS