VietNamNet Bridge - Novuie Izvestia, a Russian newspaper, compared the world blitz chess champion Le Quang Liem with a "Spartan warrior" to praise the Vietnamese chess player's strong will.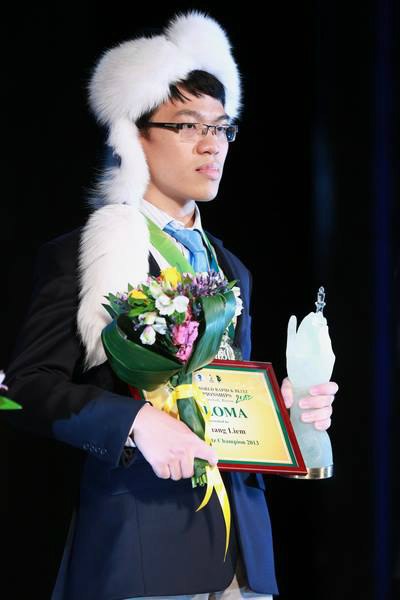 Le Quang Liem.
Le Quang Liem's victory at the 2013 World Blitz Chess Championships has not only stunned Vietnamese chess experts but also international news agencies, particularly newspapers of the host country - Russia.
Many Russian newspapers on June 11 reported about the tournament, a major event of the world chess. Itar-Tass today published an article entitled "Vietnamese Grandmaster Le Quang Liem becomes world blitz chess champion."
Prensa Latina, the news agency of Cuba also timely reported about the event in the article "Vietnamese chessman Le Quang Liem tops the world blitz chess championships." The article highly appreciated the little Asian man who won the championship in Russia, overcoming international super grandmasters such as Alexander Grischuk (two-time world blitz chess champion), Ian Nepomniachtchi and Ruslan Ponomariov.
A Russian newspaper - Novuie Izvestia – called Le Quang Liem a "Spartan warrior." The story of about 300 Spartan soldiers under the command of King Leonidas I -- fighting fiercely with 10,000 troops of the ancient Persian Empire went into literature and art as a symbol of courageousness and patriotism. The author of this article - Valeri Rubsov - used the image to prasie the strong spirit of Le Quang Liem when he faced big rivals.
In Vietnam, chess experts were also surprised at the victory.
Head of the chess division of the General Department for Sports and Physical Training – Mr. Nguyen Minh Thang said: "I did not dream about this. I thought that it is too good for Vietnam to have a player in the world top ten but now Vietnam has up to two chessmen in the world top five. Besides Quang Liem's championship, Truong Son was also excellent. He ranked fifth, with only one point less than Liem."
Thang added: "Compared to the world's top players, Liem is inferior in experience but he is better than them in the strength of youth. Blitz chess requires fast calculations. It is suitable with Quang Liem and Truong Son."
The coach of the Vietnam national chess team – Mr. Le Hong Duc was also very surprised at the performance of Quang Liem although Liem is strong in rapid chess and blitz chess.
Quang Liem is about to go to the US for studies this August. Coach Duc said it will not affect Liem's chess career because he will have opportunities to participate in chess events in the US. Moreover, chessmen mainly practice online so it is no problem where they are, Duc added.
Minh Nguyen