VietNamNet Bridge - This is not good news for Vietnam, but after nine months of struggling with injuries, the chance to be back to the race track is very far for runner Truong Thanh Hang.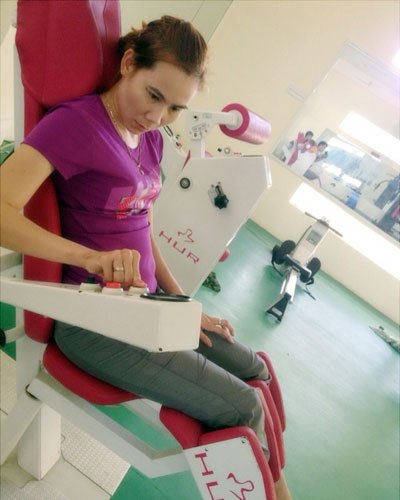 "Until now, I still cannot forget that accident. Over nine months have passed but I'm still shocked every time I thought about it. It is unfortunate to me. Though athletes have to accept risks, it is very hard for me to accept such a bizarre incident. The family of the guy who caused the accident gave me some compensation money, but it is nothing because the accident has robbed my career," Thanh Hang said.
By this time, thanks to weightlifting, cycling and running exercises, Hang's injuries have recovered by about 70 percent. But she said the wounds were not healed completely.
"There are several screws in my legs and a group of Singaporean doctors are going to Da Nang to examine my wounds and decide how to take the screws out. The surgery may take place in Vietnam or Singapore. I am very worried because after removing the screws I do not know whether I can come back to the race track or not. The risk of retirement is also very high if the wounds are not healed. I have also prepared psychologically if the doctors do not allow me to run again. I would be very sad if that happens, but I have to accept that."
Hang is studying at the Sports and Physical Training University of Da Nang to prepare for her future in case she cannot return to the running track. She plans to become a track-and-field coach.
Truong Thanh Hang is the queen of athletics in Southeast Asia. She has dominated the women's 800m and 1,500m race tracks for many years.
Hang will be unable to compete at the 2013 SEA Games in Myanmar due to injury. But with her experience, Hang trusted her junior colleagues, particularly Do Thi Thao, who recently won three silver medals in the Asian athletics tournament.
On the morning of August 31, while running with her teammate on Nguyen Tat Thanh Road, in Da Nang, the Vietnamese athletics queen was hit by a motorcycle coming from behind. Her right leg was broken and she got other injuries all over her body.
Minh Son