VietNamNet Bridge – The sale of tickets for the first game of the Vietnamese national team at the Asian Cup qualifier round on February 6 is modest though the price is reasonable.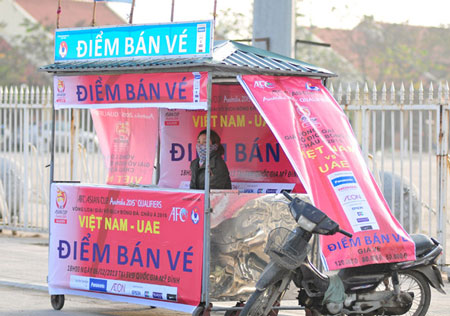 A ticket stall at the My Dinh Stadium
 To attract fans, the Vietnam Football Federation (VFF) has fixed the ticket prices at very low levels, only VND50,000 - VND80,0000 - VND120,000 ($2.5,$4 and $6) per ticket. The prices are much lower than those of other international matches that were previously held in the My Dinh National Stadium, Hanoi.
The VFF hoped that it would earn a profit from the tickets and the national team would play a good game to help the fans quickly forget the heavy defeats in the AFF Cup 2012. However, the fact is under the federation's expectation. By the end of February 4, the sale was very modest, with several hundreds of tickets, according to a ticket seller.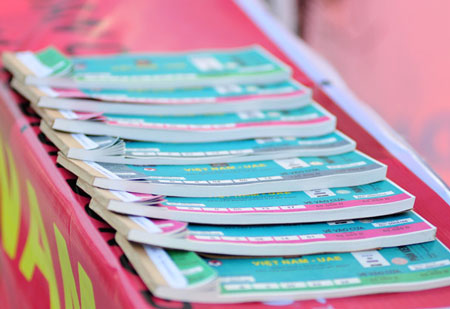 The tickets.

 Perhaps the game is neglected because it is held at the year end, when people are busy preparing for the Lunar New Year. It is hoped that today and tomorrow, fans will be more interested in the important game of the national squad.
The UAE national football squad arrived in Vietnam on February 4 to prepare for the match, which is scheduled for 6 PM on January 6 at the My Dinh National Stadium.
Nam Nguyen