VietNamNet Bridge - Mr. Kazuyoshi Tanabe had two days to learn about Vietnam's football and negotiate with the Vietnam Professional Football JSC (VPF) for his post of VPF Deputy General Director.
League hires Japanese expert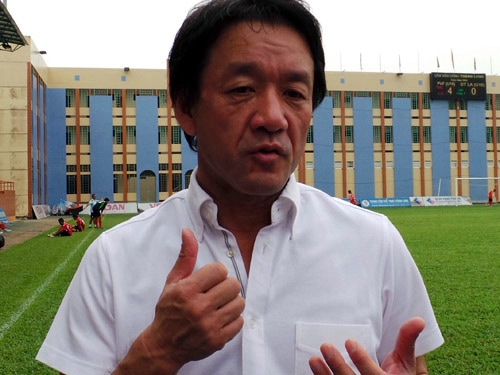 The Japanese expert talked with local reporters in HCM City on January 20.
On January 19-20, Japanese football expert Kazuyoshi Tanabe worked with the VPF's Chairman Vo Quoc Thang. Then he watched the friendly match between Dong Thap and Dong Tam in Long An province. Before returning home, the Japanese expert watched another football game of two young teams in HCM City.
Talking to the media after the two-day tour in Vietnam, Kazuyoshi Tanabe said he was very impressed with the performance of young players in Vietnam. These young talents are not inferior to their Thai colleagues but many of them are even superior.
"Having seen the U16 Thailand, I would like to say that the Vietnamese young players have bigger potential. With the available potential, in the future, I believe that the Vietnamese national team will reach the continent," he said.
Being invited to work in Vietnam when the V-League was shrinking, when many football clubs are facing financial difficulties, but Tanabe said it was not a big deal. "In the current context of Vietnamese football, to develop football, we need the hands and the efforts of the whole society. The VPF, VFF and clubs have to devote dedication and sacrifice personal interests. In Japan, football has grown significantly from the number 0 to become a regular team in the World Cup thanks to very enthusiastic people," said Kazuyoshi Tanabe.
He said that football clubs in Vietnam still depend too much on a donor. So when the donor falls into economic crisis, the club will be crumbled, renamed and dissolved.
"With 20 years of experience in the J-League, I realize that, it is better for football teams to have 5-6 businesses behind. If a business falls into crisis and face financial difficulties, 4-5 other businesses will stand out. The club name should be immutable because it is representative for a locality. Clubs must be localized to attract the audiences and local sponsors. Vietnamese clubs do not have these basics so they do not develop in a sustainable manner," the Japanese expert said.
The contract has not been signed but Kazuyoshi Tanabe wished to work in Vietnam as soon as possible.
"I and the VPF are still negotiating the contract. I do not put the money or the constraints first. It is important that I want to quickly see your football to develop. If the contract is signed, my work is making plans for Vietnamese football to really grow in the next five years. I want the V-League to be a very attractive tournament, where players have play with passion to attract the audience. I want to be able to speak Vietnamese in the next three years," said Kazuyoshi Tanabe.
Compiled by Nam Nguyen