VietNamNet Bridge – Not going to the platform to receive the yellow jersey of the ADC Tour of Vietnam 2012, Chinese athlete Huang En (from Max Success Club) lost VND50 million ($2,500) of the bonus.
China's Huang En wins Tour of Viet Nam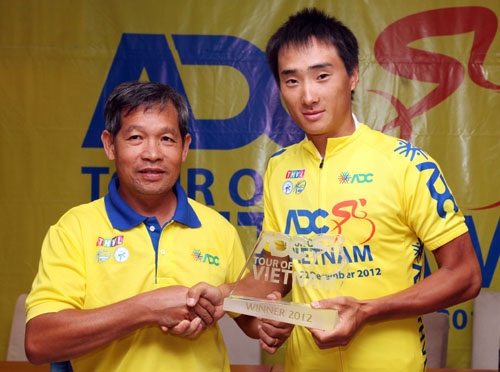 Huang En received VND25 million from the organizing board after
losing VND50 million bonus for the yellow jersey.
The General Referee N.Kulunaratna (Sri Lanka), representing the Union Cycling International (UCI), decided to not give VND50 million bonus for the yellow jersey title of the ADC Tour of Vietnam 2012 to Huang En. This cyclist has to pay a fine of 100 Swiss francs for his absence at the award ceremony, which took place after the race around Phu My Hung, HCM City on the morning of December 22.
Explaining this, the 24-year-old Chinese racer said he is not fluent in English. So soon after the race Phu My Hung returned to the hotel immediately. "After the race, I was too tired so I went to the hotel, without knowing that the award ceremony would take place soon," Huang En explained.
"As a rule, in the UCI races, the official languages are French and English. Consequently, athletes cannot blame "because I did not know English." This is also a warning for cyclists who participate in international races, especially in Asia," said referee N.Kulunaratna.
After consultation with the UCI and the media, the vice chief organizer of the ADC Tour, Mr. Vo Viet Thanh decided to give Huang En 50% of the bonus (VND25 million).
Losing some bonus and having to pay a fine, Huang En has an additional 40 UCI bonus points.
S. Tung