VietNamNet Bridge – Blaming referee Vo Minh Tri for the failure of Hai Phong FC in the game vs. Dong Thap FC last weekend, Hai Phong's fans attacked the referee and his assistants on their way back to HCM City from Dong Thap on the evening of May 13.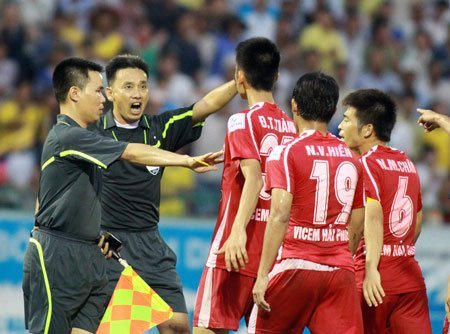 Referee Vo Minh Tri, the main officiating official of the match, booked three red cards to a member of Hai Phong's medical staff, and two players for their reaction against the referee's ruling.
At the 72nd minute, midfielder Ansah Hai Phong fouled forward Hai Anh of Dong Thap inside the penalty area. Referee Tri awarded the Dong Thap side a penalty kick, while booking a yellow card to Ansah. Immediately, goalie Ngoc Tan rushed to Tri and begun to point his finger to the official in objection.
Hai Phong defender Dinh Tien Thanh also joined in the protest with his pushing two hands against Tri's chest. The two players were at once sent off the pitch with two red cards.
The assault against referees was confirmed by V-League chief organizer Tran Duy Ly, who was on the same car with attacked referees. He said that Tri was attacked when the car stop at a toll station on Trung Luong-HCM City expressway.
Over ten Hai Phong hooligans in two 16-seat cars assaulted referee Tri. Mr. Ly and other people on the car tried to stop but they could not. Referee Tri had to run away from hooligans.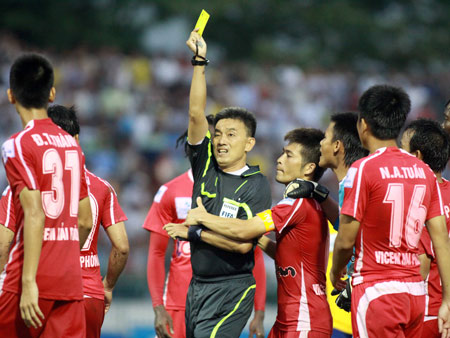 Tri was examined in HCM City. His wounds were not very serious but the assault was a shock for the FIFA-accredited referee. This was the first time a referee being assaulted outside stadiums.
The Vietnam Professional Football JS Company, which runs the V-League, and the Vietnam Football Federation have confirmed to ask for police's investigation.
Two football players of Hai Phong FC, goalkeeper Dau Ngoc Tan and midfielder Tien Thanh, who protested the referee by rude words, will be penalized.
S. Tung