A programme was held at the My Dinh national stadium on September 2 evening to honour outstanding athletes of the Vietnamese sports delegation for their successes at the 2018 Asian Games (ASIAD) in Indonesia.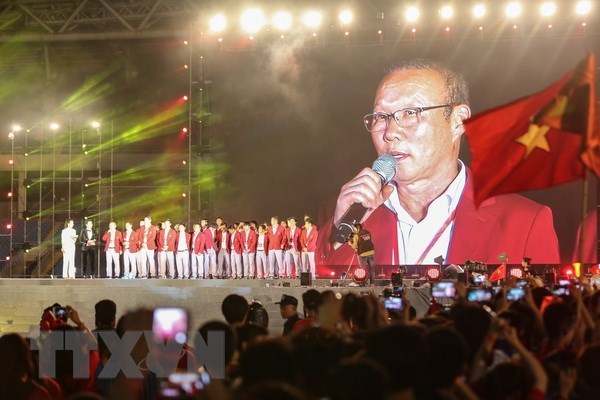 Head coach of the men's Olympic football team Park Hang-seo speaks at the event
Titled "Proud of Vietnam", the event was jointly organised by the Ministry of Culture, Sports and Tourism and the Radio Voice of Vietnam (VOV). 
Minister of Culture, Sports and Tourism Nguyen Ngoc Thien, VOV General Director of Nguyen The Ky, and officials from the Ministry of Information and Communications, the Hanoi People's Committee , the Vietnam Sports Administration, the Vietnam Football Federation along with dozen of thousands of people were present at the stadium to share the athletes' joy. 
Speaking at the event, VOV General Director Nguyen The Ky affirmed that in the atmosphere of the National Day (September 2), millions of hearts were heading to the stadium with the same beats welcoming the delegation, which accomplished its mission at ASIAD 2018.
He highlighted that by their burning love for the fatherland, by their wisdom, talent and bravery, the athletes have made great efforts to reach high achievements, bringing pride to the country. 
This event was also a chance for sports fans nationwide to meet and exchange with athletes, as well as congratulate the athletes that made excellent achievements in the Asian sport event. 
Minister of Culture, Sports and Tourism Nguyen Ngoc Thien said over the past two weeks, Vietnam's sports fans have always followed up the athletes' competition at ASIAD 2018, and they all felt emotional and proud as the athletes made many victories at this event. 
The tireless efforts of the athletes showed their determination to compete all because of the flag colors to bring glory to the country, he said.
Vietnam finished 17th out of 45 countries and territories in the medal tally of the continental sporting event, with four gold, 16 silver, and 18 bronze medals. 
In addition, the Olympic team made history by earning a ticket to the semi-finals of the men's football and winning praise from international experts, and the support and love of millions of fans.
He expressed his gratitude to the Party and State leaders for their interest and attentions to the country's sports in general and football in particular.
Long jumper Bui Thi Thu Thao, who won a gold medal at ASIAD 2018, thanked the leaders of the Party, the State and fans for their support to the delegation, saying that this was a encouragement and motivation for Vietnamese athletes to continue to promote their abilities, thus making more contributions to the country's sport development in the future.-VNA