VietNamNet Bridge – Saigon Heat proved hot enough to scorch the Danang Dragons in the Viet Nam Basketball Association (VBA) League, held on Tuesday evening at 5th Military Region Gymnasium, Da Nang City.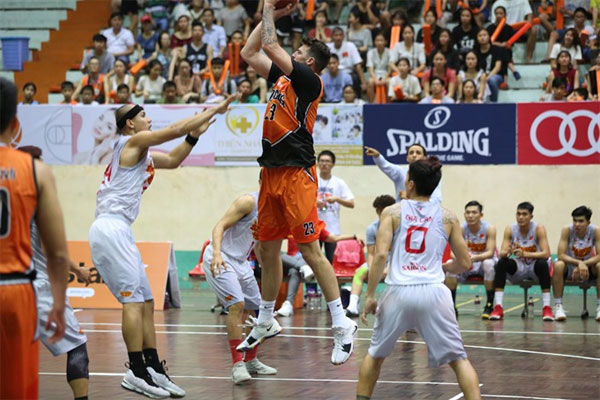 Danang Dragons (orange) were overtaken by the Heat in the end. — Photo Courtesy of VBA
The game started with the Dragons raining down threes, with Horace Nguyen, Vo Van Thanh and Zach Allmon combining for 12 points for the Mekong Delta squad.
However, the visitors were not easily bullied, and Tavarion Nix (8 points), Tran Vu Linh (4 points) and Hong Gia Lan (4 points) helped the Heat send the first quarter down 21-20.
The second period was just as tight, with the Dragons going into the break with a 42-41 lead.
As the third started, Saigon shot themselves in the foot, with centre Tavarion Nix committing three consecutive fouls. The Dragons, however, were unable to take full advantage, ending the period tied at 57 apiece.
In the last minutes, Danang ran out of gas and Saigon stole the match by gaining 26 points in the fourth, taking an 83-69 victory.
Nix contributed 21 points, 15 rebounds and 4 steals, while Lan put up 20 points for Saigon.
For the Dragons, Chris Dierker poured in 20 points and 7 rebounds, while Allmon had 23 points and nine boards
Danang next face Hanoi Buffaloes at University of Sciene and Technology's Gymnasium today, while Saigon Heat will meet the Buffaloes on Saturday.
Source: VNS