After a 0-2 "misfortune" conceded at Saigon's Thong Nhat stadium, the odds-on favourites for the 2018 V.League trophy, Hanoi FC, rediscovered their rhythm by sealing a resounding 5-2 win at home over SHB Da Nang in the 15th round of play last weekend.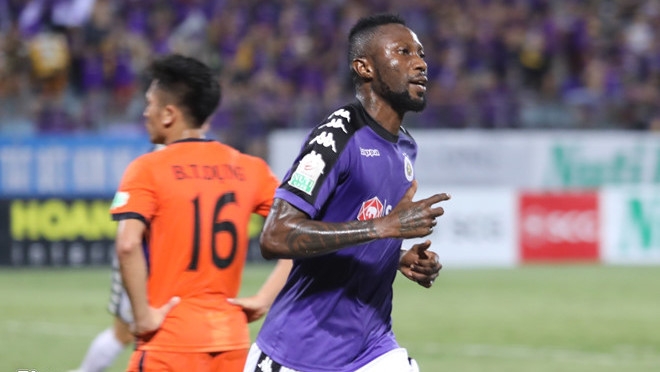 Substitute Hoang Vu Samson scores a double in Hanoi FC's 5-2 win over SHB Da Nang. 
In a match where the current top scorer Ganiyu Bolaji Oseni was "silent", other attacking spearheads, namely Nguyen Quang Hai and Hoang Vu Samson, took over the scoring responsibility for manager Chu Dinh Nghiem's side, accounting for three of their total five goals on Saturday.
With a safe lead of 13 points over second-placed Quang Ninh Coal, together with a terrific offensive line, hopes are high that the capital team will secure an early title this season if they can sustain their current impressive form until the end.
While Hanoi FC continued to solidify their reign in the provisional table, Quang Ninh Coal's hold over second place is being seriously threatened following their poor performance in the past two matches, unexpectedly drawing 1-1 with newly promoted Nam Dinh FC and losing 1-2 to Sanna Khanh Hoa BVN. 
The 15th-round victory helped Khanh Hoa to reduce their gap with Quang Ninh to a single point, while Hai Phong are now only two points behind in fourth position after a 1-1 tie with reigning champions Quang Nam.
The two "phenomena" of the first leg, Becamex Binh Duong and XSKT Can Tho, are showing signs of slowing in the second stage, as both conceded defeats last weekend. 
The 0-1 slip at Song Lam Nghe An marked the third consecutive loss for Can Tho and their sixth game in a row without winning. 
From a team in the leading group, manager Dinh Hong Vinh's side has now fallen to fourth place from bottom with 16 points, just three points clear of the three bottom-group competitors, including Saigon, Nam Dinh and Ho Chi Minh City. 
As for the former title holders, Binh Duong, the 1-3 defeat at FLC Thanh Hoa was the second loss that they succumbed to, which had never occurred to manager Tran Minh Chien's side in the first leg.
Newly promoted Nam Dinh FC finally succeeded in their constant efforts to break out of the bottom position in the table after fighting back for a fantastic 2-1 triumph over Ho Chi Minh City, who replaced Nam Dinh at the bottom for the first time since the beginning of the season.
Nhan Dan