Moving on from their two huge defeats in the Asian Women's Cup, the Vietnamese players are positive for their last Group B match against South Korea today in Amman, Jordan.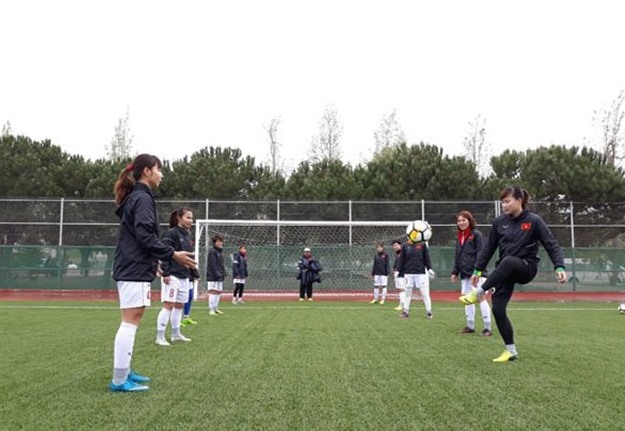 Vietnamese players in a training for the clash against South Korea yesterday. — Photo thethaovietnam.vn
After two rounds, Viet Nam, world No 35, are at the bottom of the ranking table.
Although their previous defeats eliminated them from the final four, they can still reach the playoffs for the fifth place and earn a ticket to FIFA Women's World Cup if they defeat South Korea, who are world No 16.
Despite the challenge, coach Mai Đức Chung allowed his players to spend Wednesday afternoon shopping and sightseeing.
Speaking about their rivals, Chung said the South Koreans were a team of physical players, who also owned good technique. He said their playing style was simple but effective, adding their performance improved with their matches against reigning champions Japan and runners-up Australia.
He was impressed with at least four South Korean players---midfielders Lee Mina, Cho So-hyun and Jeon Ga-eul and striker Ji So-yun.
He, however, had plans to resist them.
"We cannot compare with them in terms of physique. But if we press them, we will give them a chance to attack. I have asked my players to defend by staying close to each other and limiting their opponents' space," Chung said.
"A FIFA expert told me after the match against Australia that we lost in terms of score but were confident to run the ball and made some good passes. If we could have finished that match well, we would have had a goal," he said.
In today's match, Chung will welcome back his key midfielder Chuong Thi Kieu, who is expected to strengthen his defence.
Speaking to reporters, Kieu said she was determined to win and hoped her team could spring some surprise.
"I will definitely play this match. There is only one game ahead. My teammates and I will try our best to make our supporters at home happy," she said.
The match will be held at King Abdullah II Stadium at 8.45pm.
In another game, Japan and Australia will vie for the top position in the group. — VNS