Tran Duy Quang won the men's 70km category of the Dalat Ultra Trail International Marathon, which concluded in the Central Highlands province of Lam Dong on Sunday.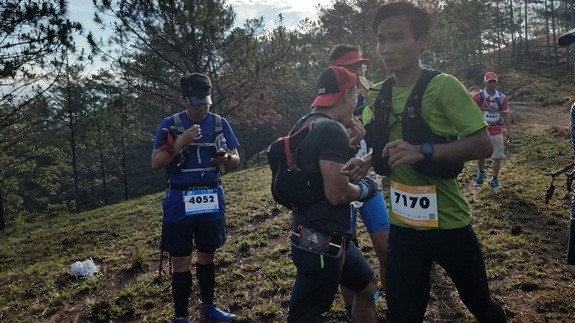 Tran Duy Quang (right) seen in the 70km race at the Dalat Ultra Trail International Marathon. — Photo webthethao.vn
Quang, 29, of Da Nang Runners, finished in a time of 7:32.38. "I trained very hard with spirit to prepare for the event. This race was very tough with hills and mountains. I am very glad to have overcome this challenge," said Quang.
The runners-up were Florian Deichmann of Germany and Kevin Morisseau of Malaysia. 
On the women's side, Marieke Dekkers of the Netherlands, who lives in HCM City, triumphed with a time of 10:01.03. Second and third place went to Vietnamese Nguyen Thi Duong of Long Distance Runners of Hanoi and Ann Jilian Pulanco of the Philippines, respectively.
Vietnamese Le Tan Hi of Lam Dong finished first in the men's 42km division with a time of 3:58.32, while Kevin Lohner of the US and Richard Leech of South Africa came second and third.
In the women's 42km, Marion Torres of France was the winner. Indonesian Sara Valentina and German Veronique Thuere were the runners-up.
In the men's 21km, the first position went to Doan Ngoc Hoang of Viet Da Gia Hiep club in 1:44.12, while Hoang's teammate, Dao Thi Linh Nhi won on the women's side after clocking a time of 2:14.55.
The two-day event attracted some 2,300 domestic and foreign runners. The athletes ran through well-known destinations in Da Lat City such as Lam Vien Square, Vang Valley, Love Valley, Langbian Mountain and Bidoup National Park.
The event was organised by the provincial Department of Culture, Sports and Tourism, Vietnam Cycling and Sport Motor Federation, Vietnam MTB Series Company and 123Go Company. — VNS