VietNamNet Bridge – Vietnam beat Maldives 3-0 in their first pre-qualification match of the Junior Fed Cup, Asia-Oceania zone, on Monday in Colombo, Sri Lanka.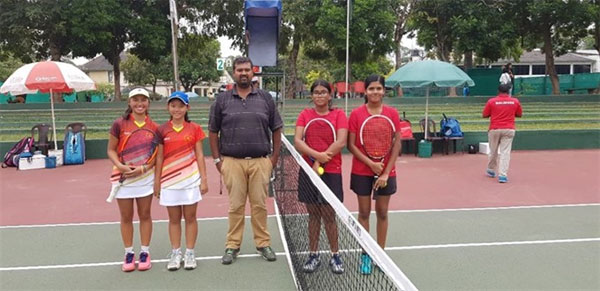 Vietnam's Junior Fed Cup pair (left) pose for photo with referee and Maldives players ahead of their match. — Photo VTF
In the first singles match, Nguyen Minh Thuy Hang beat Aishath Yala Hussain 6-1, 6-1. Hang's teammate Nguyen Thi Phuong won 6-0, 6-2 over Mariyam Hashma Hanim. Hang and Phuong then defeated Hanim and Aishath Yumn Yumn 6-1, 6-1 in the doubles match.
In the Junior Davis Cup, Vietnam overcame Tajikistan 3-0.
Tat Thai Nguyen beat Mirzobahhodur Muminov 6-0, 6-0. Le Khanh Duy Tu defeated Gayrat Siyovushi 6-0, 6-1. Tu and Tran Quang Truong tounced Muminov and Siyovushi 6-0, 6-0.
Vietnam will next play the hosts, who on Monday beat Saudi Arabia 3-0. 
Source: VNS