VietNamNet Bridge – Hoang Anh Gia Lai (HAGL) will compete in the V.League 1 with 28 players born in the 1990s.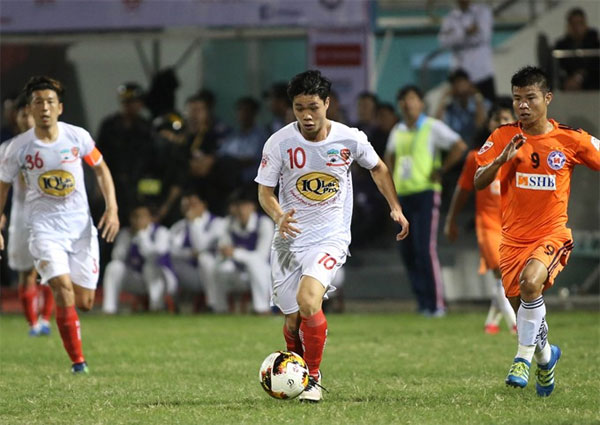 HAGL's Nguyen Cong Phuong (middle) seen in the match with SHB Da Nang in the V.League last year. HAGL aim to shine in this year's event. — Photo thoibao.today
HAGL are considered the youngest squad in the event which will begin on March 10.
The goalie, Pham Van Tien, is the team's oldest player at 24, while striker Dinh Thanh Binh, 19, is the youngest.
In this year's event, HAGL registered two foreign players: midfielder Kim Jin-seo of South Korea and striker Romario Gordon of Jamaica. The two players were born in 1994.  They are the same age as defenders Le Duc Luong and Nguyen Tang Tien.
HAGL have eight players born in 1995 including midfielders Nguyen Tuan Anh, Luong Xuan Truong and strikers Nguyen Cong Phuong; nine players in 1996 such as midfielders Vu Van Thanh and Nguyen Phong Hong Duy and five footballers in 1997 including midfielder Phan Thanh Hau and striker Tran Thanh Son.
Coach Duong Minh Ninh of HAGL is rather young, too, at 43 years old. His assistants are Trinh Duy Quang, 45, and Nguyen Van Dan, 44.
HAGL are expected to shine at the national premier league as their key player, midfielder Nguyen Tuan Anh has recovered from injury. Truong has returned home after playing for K League side Gangwon FC. Truong, Phuong, Nguyen Van Toan, Thanh and Duy are eager to take part in the league after contributing to the football team's success at the AFC U23 Championship in China in January in which Vietnam won the silver medal for the first time.
HAGL's president Doan Nguyen Duc is very confident that his team has a shot at taking the event's trophy for the first time.
"HAGL own many members of national team. Technical director Chung Hae-soung aims to earn a high place in this year's event and triumph in the next year's tournament. But when the chance comes to us, we will make the most of it to win," said Duc.
As scheduled, HAGL will meet former champions Becamex Binh Duong on March 10 at Pleiku Stadium in the Central Highlands province of Gia Lai.
If HAGL win the national top flight league, they will become the youngest champions in the Vietnamese football history.
"HAGL are well prepared and ready for the event. My players are very hardworking. I hope many fans will support us," said Chung. 
Source: VNS