Saigon Heat are close to assuring a spot in the play-off round after defeating the CLS Knights of Indonesia 114-86 in the Asian Basketball League, while playing at home on Saturday in HCM City.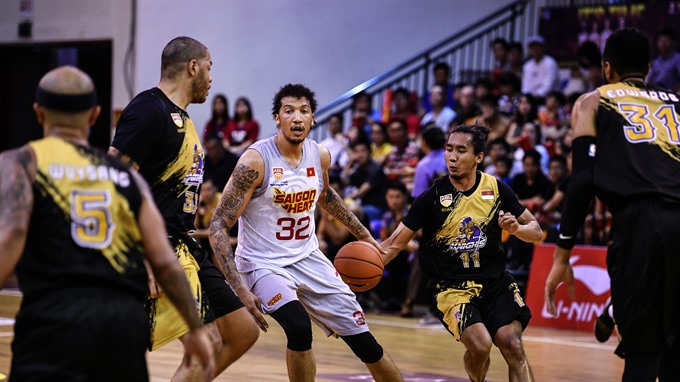 Maxie Esho of Saigon Heat (centre) seen in an ABL match against CLS Knights on Saturday in HCM CIty. The Heat win 114-86. — Photo VBA
With the win, they have eliminated the Knights from playoff contention.
The Heat started strongly from the beginning, with Michael Williams completing a three-point throw.
Moses Morgan had returned, playing better following a two-game absence. The Heritage import knocked down 8 three-pointers, the most during his three-years playing for the Heat.
Maxie Esho, however, proved to be the difference. He showed off his speed and versatility, scoring 35 points. The big man was efficient on the floor, as he went 14-for-21 from the field, along with 12 rebounds.
The score was 50-42 in favour of the hosts at the halftime break. But in the remaining two quarters, the Heat outscored the Knights, 64-44. They would go on to lead by as much as 33 points in the lopsided game.
The Knights tried to fight back, but the only bright spot for them was Shane Edwards, who tallied 23 points, while Brian Williams was the only other player who reached double-figures, with 16 points.
The Heat grabbed their eighth win of the season and remain sixth in the standings. They remain behind China's Chong Son Kung Fu and Singapore Slingers, respectively. The trio will now fight for the remaining spot in the playoffs.
The Heat will have one week off before welcoming Westports Malaysia Dragons on March 10.  — VNS