The most important sports competition for Viet Nam this year will be the Asian Games (ASIAD), in which the country targets three gold medals.
Currently, all the best athletes are undergoing intensive training courses to prepare for the event, which will be held in Indonesia in August. Among them, Nguyễn Thị Thật, Hoàng Xuân Vinh, Thạch Kim Tuấn, Lê Tú Chinh, Bùi Thị Thu Thảo and Nguyễn Thị Ánh Viên have high expectations.
Thật is the first Vietnamese cyclist to win a gold medal at the Asian championship.
It makes her as well as her managers hopeful of a victory in ASIAD.
The 24-year-old has pocketed all national titles and is yet to find a worthy rival in local and regional tournaments.
In the last ASIAD held in South Korea in 2014, Thật won a silver.
Her Asian championship title came last month when she triumphed in the women's road race category in Myanmar.
Thật will leave for Switzerland on March 3 to take part in a three-month training course. This is aimed at improving her quality for ASIAD as well as for other international competitions in future.
"I am ready for the new challenges. The Swiss course will help me reach a higher level and meet people's demands," she said.
Thật will be back home in July, when she will test her ability at an international tournament in An Giang Province, before showing off her talent in Indonesia.
Hope prevails amidst pangs of defeat
Marksman Vinh has not won any title since his victory at the Rio Olympics in 2016.
The national hero even failed in last year's Southeast Asian (SEA) Games, a competition that was believed to be easy for him.
But Vinh continues to be Việt Nam's hope at any sports event, including ASIAD, in the 10m air pistol category, which is his forte.
According to coach Nguyễn Thị Nhung, Vinh's main problem is heavy pressure ahead of any event. He, however, overcame it to claim Việt Nam's first Olympic gold. But it may not be easy for him to repeat the feat.
After the SEA Games, Vinh admitted not being able to overcome the nervousness, which resulted in his loss.
Last year, he also failed at the World Cup and lost his top place in the world ranking.
In Indonesia, he will face his regular rivals, including Tomoyuki Matsuda of Japan, who replaced Vinh as World No.1.
Vinh has defeated Matsuda many times in the past.
Forty-four-year-old Vinh said he had different targets for future and an ASIAD gold was one of them.
Years of training to clinch the gold
"Little mermaid" Viên is another hope for Việt Nam at the gold.
The swimmer has spent nearly seven years training in the United States for an Olympic medal for Việt Nam, and the upcoming 18th Asian Games will be crucial for her.
Four years ago, Viên claimed two bronze medals in the 200m and 400m individual medley pools. Since then, her results have improved remarkably following monthly reports sent to the Việt Nam Sports Administration.
The 21-year-old has won a gold, a silver and four bronze medals at the 2016 Asian championship as well as several medals in World Cups and different prestigious tournaments during her time in the United States.
Weightlifting champion Thạch Kim Tuấn is expected to continue his excellent performance that helped him win three world titles last November at the Indonesian Games.
His titles were considered lucky as his rivals were found guilty of doping and were eliminated from the tournament.
The HCM City-born athlete is a strong contender for the podium as he won a silver in the last Asian Games held in South Korea.
In four years, he sharpened his skills by participating in different tournaments, including the Rio Olympics, and won gold medals at the Asian Indoor and Martial Arts Games (AIMAG) last year.
Giant strides to victory
Long jumper Bùi Thị Thu Thảo said she would try her best to win a gold at ASIAD this year.
She started 2018 by winning a gold in the Asian Indoor Athletics Championships in Iran early last month.
In late 2017, Thảo claimed two titles at the Asian Grand Prix series with her seasonal best of 6.58m.
Earlier at the SEA Games, she beat Maria Natalian Londa of Indonesia, the ASIAD reigning champion who jumped 6.47m, to top the ranking. Thảo's result of 6.68m was a new record at the SEA Games, which was much better than Londa's 6.55m in South Korea four years ago.
Short-distance runner Lê Tú Chinh is a rising national and regional star after she won a title hattrick at her SEA Games debut and a silver at AIMAG last year.
Chinh is currently at the IMG Academy in the United States participating in the world's most innovative training programmes that are expected to help in the next stage of her career.
According to Trịnh Đức Thanh, head of HCM City Athletics Department, to which Chinh belongs, Chinh will take part in many events in the United States as well as neighbouring countries in the next three years.
Experts will keep a close watch on her and will adjust the training curriculum to suit her needs after a specific period.
The Asian Games will kick off on August 18. Athletes will compete in 40 sports until September 2.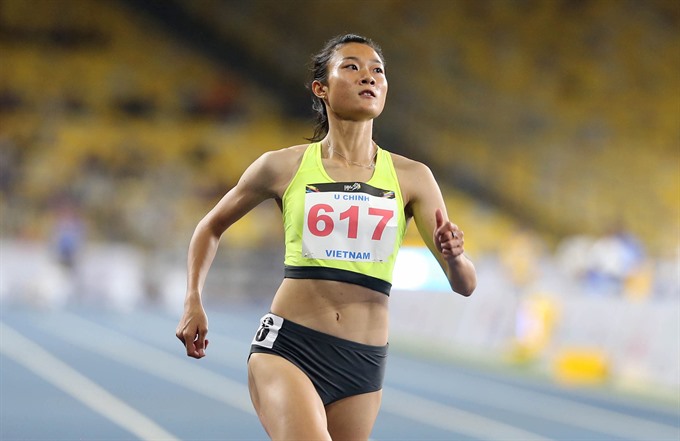 Lê Tú Chinh is in the US to improve her technique for ASIAD. — Photo plo.vn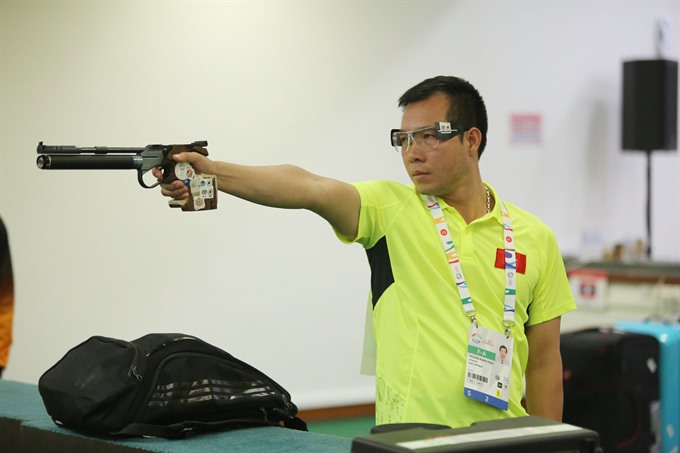 Shooter Hoàng Xuân Vinh targets ASIAD gold to complete his title collection. — Photo bongdacuocsong.net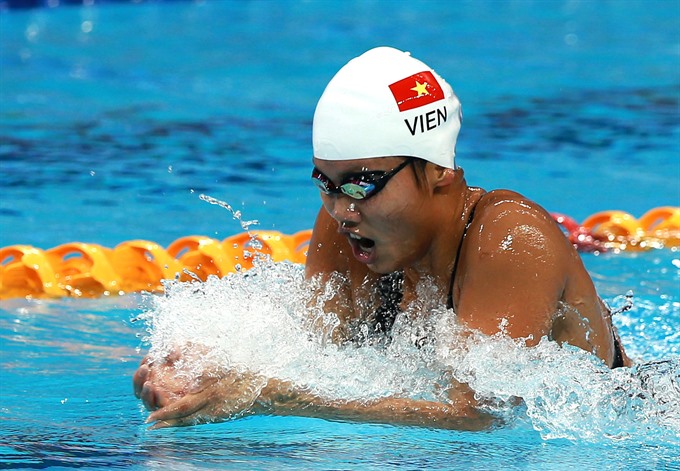 Swimmer Nguyễn Thị Ánh Viên will compete for gold in the Indonesian Asian Games. — Photo tapchithethao.vn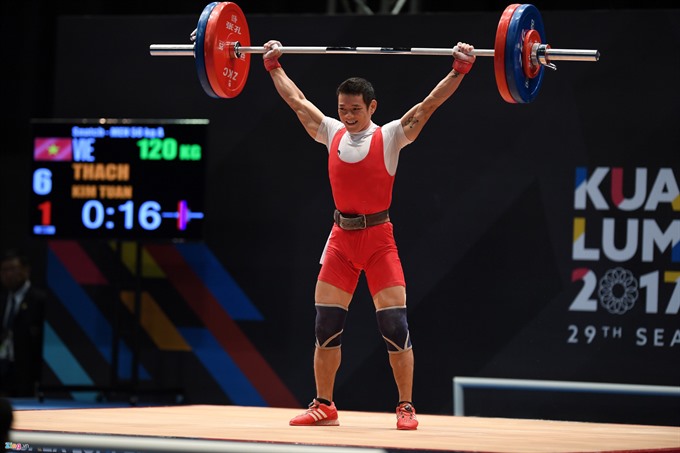 World champions Thạch Kim Tuấn is set to win in his second ASIAD. — Photo news.zing.vn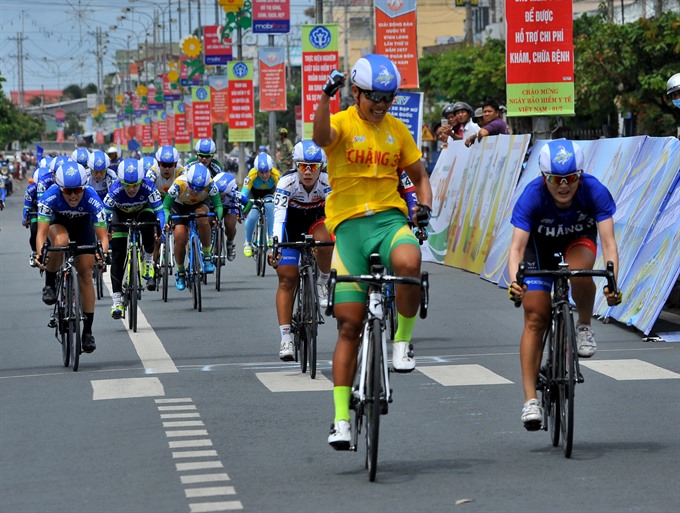 Cyclist Nguyễn Thị Thật is one of athletes expected to win Việt Nam's ASIAD gold medal. — Photo baobinhduong.vn/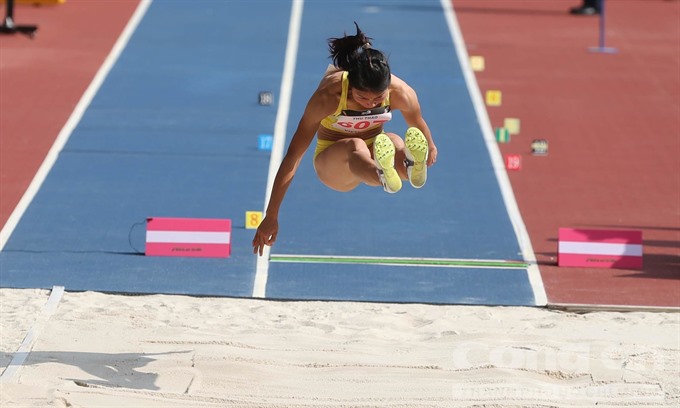 Bùi Thị Thu Thảo works hard to top women's long jumping event this August. — Photo thethao.congan.com.vn
VNS