VietNamNet Bridge – Mai Duc Chung will take charge as national head coach in his last match as Viet Nam host Cambodia in the Asian Cup 2019's third qualification round today.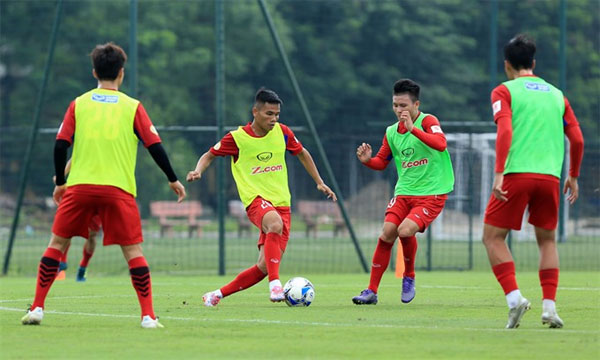 Vietnamese players are training in Ha Noi in preparation for the Asian Cup 2019 qualifier against Cambodia on October 10. 
The match will be play at My Dinh Stadium in Ha Noi.
The acting coach will then step back to for make way for South Korean Park Hang Seo who will take over the coveted position and officially sign a deal with the Viet Nam Football Federation on Wednesday.
A win in the game could not only push Viet Nam to the top of Group C, but would also be a touching farewell for Chung, who will return to lead the national women's squad.
"The win will be for the team's supporters, but I am sure Chung would be the happiest person," captain Nguyen Van Quyet said at a press conference yesterday.
Quyet on behalf of the whole team thanked Chung for what he had achieved during his short stint.
"We will do our best in tomorrow's match -- give it more than 100 per cent -- making it a meaningful match for Chung."
At the conference, the 66-year-old coach said it would be difficult to play a beautiful game and win at the same time, which is what the supporters were hoping for.
"We need a win more than beautiful playing. The final target will be three points from this match. We will play counter-attack to achieve our target," Chung said, who added that his players were asked to attack through wings, free kicks and corner kicks.
"In this return leg, my players are on home soil, playing on natural grass, which is their favourite and also under support of their beloved fans. It would be great advantage for us," Chung, who has been working on the football field for more than 40 years, said.
He said he watched a friendly match between Cambodia and Indonesia last week and found there was no change in their tactics and personnel.
"Each team have their own way of playing. Cambodia's playing style is dependent on their star performer Chan Vathanaka. Viet Nam's strength comes from the team's unity. We must have different solutions for different rivals. I have my own way to limit Vathanaka's ability," he said.
Speaking with reporters, defender Que Ngoc Hai said he was excited to face Vathanaka, who was fast and had a sharp mind.
"I have been up against him several times. He has progressed a lot and would be a redoubtable striker. He played at his peak in the match versus Indonesia. I will have to keep an eye on him, otherwise he could make the difference," Hai said.
Vathanaka is called 'Cambodia's Messi'. He is the most important player in coach Leonardo Vitorino's line-up.
He scored a goal in Cambodia's 1-3 defeat against Indonesia. The 23-year-old, who is playing in the Japanese J-League 3, has scored 13 goals in his 34 appearances for the national team.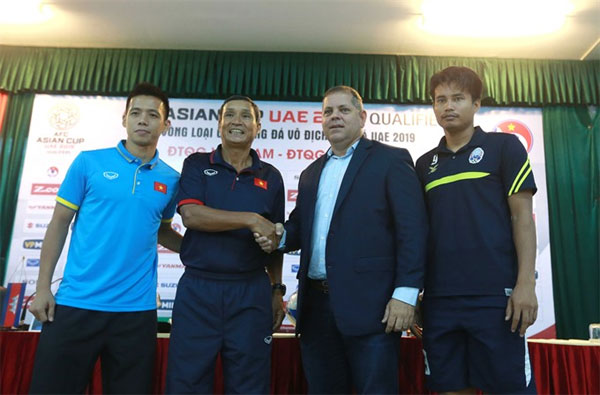 Viet Nam coach Mai Duc Chung (second, left) shakes hand with Cambodia trainer Leonardo Vitorino at a press conference yesterday in Ha Noi. — VNS Photos Tuan Tu
At yesterday's briefing, Vitorino hoped his team could change things around in today's match.
The Brazilian said Cambodian would play defence, learning from the first leg match in which they lost 1-2 to Phnom Penh on September 5.
He said one of his team's disadvantages was their physique. In the Phnom Penh match, Cambodia played attack in the first half, and were therefore exhausted in the second half, which was when Viet Nam scored the decisive goal.
Vitorino did not reveal if Vathanaka would play at My Dinh. Some days ago, he said his striker was having health problems and may not compete.
The coach said he had spent time studying Viet Nam's football following the Southeast Asian Games in Malaysia.
The 43-year-old praised three players of the host nation -- midfielders Luong Xuan Truong and Nguyen Van Quyet and defender Doan Van Hau.
He said these impressive players could make a breakthrough in any game with their smart and effective passes.
In case they lost, Cambodia's door to the Asian Cup final is almost closed as they will be No 3 the table with only three points.
The top position will go to Viet Nam if in another match of the group, being played on the same day, Jordan lose to Afghanistan, who are at the bottom. Viet Nam will have eight points and Jordan seven. If Jordan draw Afganishtan, the No 1 position will belong to either Viet Nam or Jordan, whoever have better goal difference.
To advance to the finals, Cambodia must win both its remaining matches with a high score, while hoping both Viet Nam and Jordan perform poorly.
Only the two top-ranked teams can advance to the Cup finals, organised from January 5 to February 1, 2019, in the United Arab Emirates. 
The match between Viet Nam and Campuchia will be aired live on VTV6 channel from 7pm.
Supporters are encouraged to go to the stadium to watch the game on the field, with tickets available at kiosks around the ground for VND100,000-200,000 (US$4.5-9). 
VNS