VietNamNet Bridge – Danang Dragons beat HCM City Wings 63-60 in the Viet Nam Basketball Association (VBA) League at the Military Zone 5 Gymnasium in Da Nang yesterday.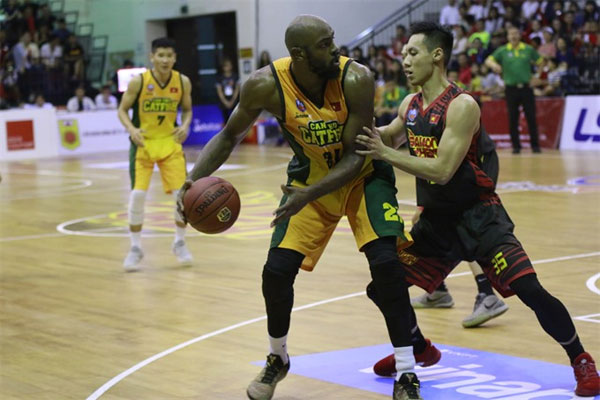 Cantho Catfish beat Saigon Heat at the VBA League on Saturday. — Photo VBA
Playing without their key players Bilal Richardson and Ngo Tuan Trung, the Wings met with difficulties while facing the Dragons, and they lost 17-11 and 31-27 in the first and second quarter.
In the third quarter, Trieu Han Minh helped the Wings narrow the gap to 44-48.
Rudolphe Joly, Nguyen Hoang Tuan and Nguyen Tuan Vinh continued to maintain a safe points gap for the Dragons. However, the Wings fought back strongly. They scored 10 points in a row to reduce the gap to 61-60, with only 40 seconds left in the game, making their fans at the gymnasium erupt in joy. However, young ace Tuan scored two points to fix the final score of 63-60 in favour of the Dragons.
In a derby on Saturday, Hanoi Buffaloes lost to Thang Long Warriors 71-61 at the Ha Noi's University of Education Gymnasium.
With new recruit Jason Carter and the return of Dang Thai Hung, the Buffaloes were eager to take a win against their rival in the city.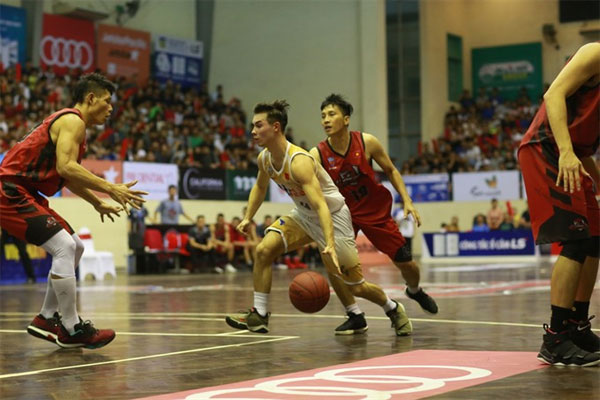 Hanoi Buffaloes and Thang Long Warriors' players perform at the Ha Noi's University of Education Gymnasium on Saturday. — Photo VBA
However, the first two quarters saw the Warriors fighting back with full strength. They performed with perfect teamwork with Nguyen Van Hung, Justin Young, Jaywuan Hill and Truong Hoang Trung shining for the Warriors. When the second period was nearly finished, with an accurate throw, Hill helped the Warriors win 34-31.
In the third quarter, Hill and Nguyen Xuan Quoc were forced to leave the game owing to individual errors. Without Hill and Quoc in the ring, the Buffaloes quickly narrowed the score and balanced the situation. However, Hung displayed his best performance to score eight points to play a key role to help the Warriors finish 48-43.
The Buffaloes made every effort to score goals in the last quarter, but they still suffered a 61-71 loss.
In this match, Hung of the Warriors won the MVP award after scoring 16 points and having 11 rebounds.
In another match, Cantho Catfish beat Saigon Heat 78-62.
The Heat played without their key player Darius Lewis in the first two periods. Taking full advantage of this chance, the Catfish were in the lead. Although Lewis returned in the next quarters, he couldn't make a surprise to help his team win. 
VNS