Competitors in swimming, powerlifting and athletics brought home the first eight gold medals for Vietnam on the first official day of the ASEAN Para Games 2017 (September 18) in Kuala Lumpur, Malaysia.
Swimmer Vi Thi Hang successfully realised her dream of changing the colour of her medal, from silver to gold, on her third appearance at the largest regional sporting event for athletes with disabilities.
She opened Vietnam's gold hunt campaign by claiming the women's 100m freestyle S7 title, with a time of 1:23.99, beating the previous record of 1:36.11 by nearly 13 seconds.
Inspired by Hang's victory, other members of the swimming team performed brilliantly and added three more gold medals to Vietnam's tally, thanks to Vo Huynh Anh Khoa, Ha Van Hiep and Nguyen Thanh Trung, in the men's 100m freestyle S9, 50m breaststroke SB3 and 50m breaststroke SB4 events, respectively.
After a fruitful morning in the swimming competition, Vietnam went on to reap further success in the afternoon with exceptional performances by 2016 Paralympics champion Le Van Cong and his teammate Nguyen Binh An in powerlifting.
Both Cong and An were presented with a gold medal after they won the men's 49kg competition with the same total lift of 181kg.
The remaining two titles were secured by Cao Ngoc Hung in the men's javelin throw F57 and Nguyen Thi Hai in the women's long jump T44 category.
Alongside the eight gold medals, the Vietnamese athletes also captured eight silvers – five in swimming and two in athletics – and five bronzes – one in swimming and four in athletics.
As of 4.30pm today, Vietnam is provisionally sitting in third place on the medal table with eight golds, behind Indonesia (20) and Malaysia (11).
The ASEAN Para Games 2017 is taking place in Kuala Lumpur from September 17 to 23, with the participation of 1,452 athletes with disabilities, competing for 368 medal sets across 16 events.
Vietnam is represented by 142 athletes in eight events, including swimming, track-and-field, weightlifting, table tennis, chess, badminton, Boccia and football for the visually-impaired.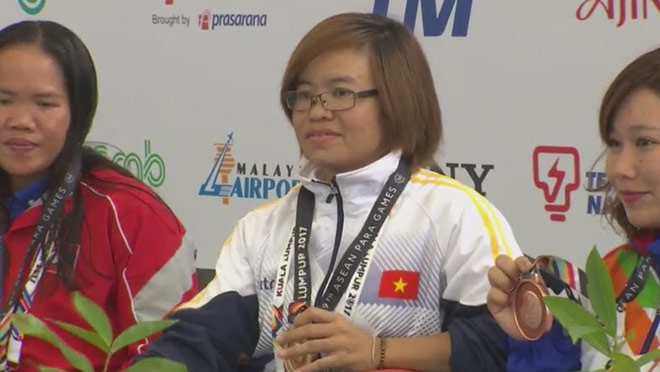 Swimmer Vi Thi Hang wins the first gold medal for Vietnam at the ASEAN Para Games 2017.
Powerlifter Le Van Cong celebrates after winning the men's 49kg category.
The joy of powerlifter Nguyen Binh An
Nhan Dan