Vietnam was defeated by hosts Myanmar 2-1 in the last match of group B of the AFF U18 Championship yesterday at Thuwunna Stadium in Yangon, knocking the team out of the tournament.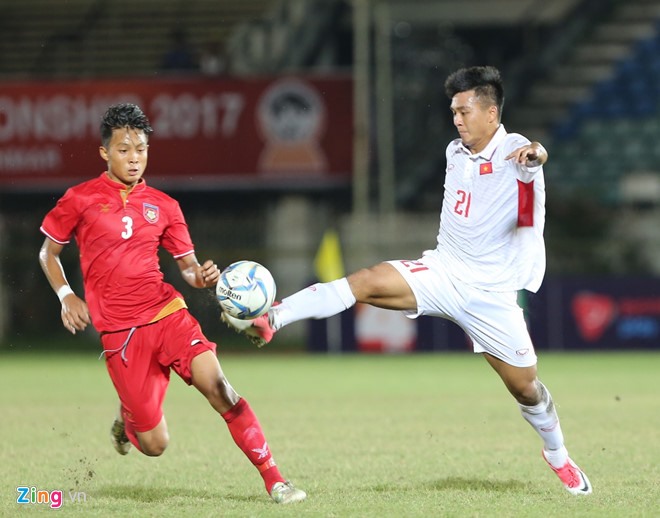 Vietnamese striker Le Van Nam (right) competes for the ball against a Myanmar opponent in the last match of group B of the AFF U18 Championship yesterday. Vietnam lost to hosts Myanmar 2-1. 

The Vietnamese side finished third in the five-team group with nine points, tied with Indonesia and Myanmar, who both went through to the knock-out stages on goal difference and head to head record, respectively.
Before the match, Indonesia crushed Brunei 8-0, booking their place in the semi-finals and making the Viet Nam-Myanmar game a winner takes all encounter.
Earlier, Vietnam thrashed Brunei 8-1, beat the Philippines 5-0 and defeated Indonesia 3-0.
Vietnam started fast and furious, with midfielder Nguyen Hong Son opening the scoring in only the second minute.
The visitors controlled the match in the first half, stifling Myanmar's players and denying them a clear sight at goal.
In the second half, coach Hoang Anh Tuan's team had several opportunities to double their lead but were found wanting, setting the stage for a dramatic comeback.
Myanmar equalised in the 73rd minute, with Sone Naing's free kick teeing up Kaung Khant, and with the wind in their sales the home side took the lead 12 minutes later, after a mistake by Vietnamese goalkeeper Y E Li Nie allowing Lwin Moe Aung to score.
"We lost focus in the second half," said Vietnamese winger Le Xuan Tu after the match. "We only have ourselves to blame for this. But we will be better next time."
The hosts finished the game in control, giving them a 2-1 win and a ticket to the semi-finals. 
VNS