Vietnam beat Sri Lanka 25-12, 25-14, 25-17 in the first match of the Asian Senior Women's Volleyball Championship's preliminary round in the Philippines on Wednesday.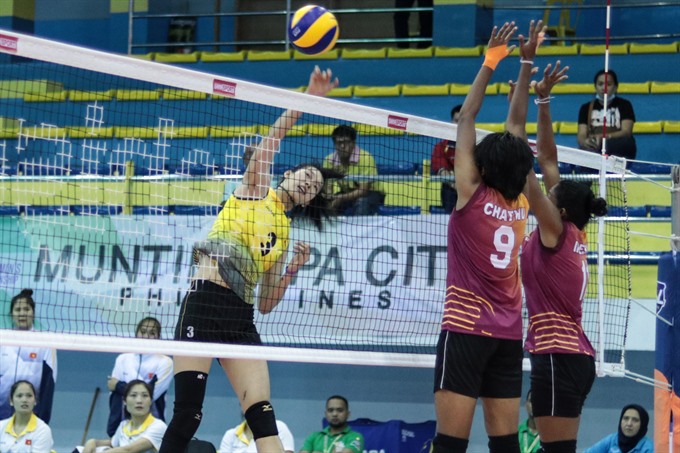 Vietnam (in yellow) beat Sri Lanka in their first match at the Asian Women's Volleyball Championship in the Philippines. 
Also in Pool C, Asian Games winner South Korea beat New Zealand 25-21, 25-14, 25-12 in the Alonte Sports Arena.
Despite not having some of their reliable stars, Japan remained indomitable, thumping Australia 25-19, 25-14, 25-8 in an opening day victory.
Meanwhile, Chinese Taipei under captain Chen Wan-ting, defeated Iran 25-15, 25-27, 25-17, 25-20.
Two-time winner Thailand spent only 53 minutes thrashing the inexperienced Maldives 25-5, 25-12, 25-9.
The noisy, proud crowds in the Alonte Sports Complex were also rewarded with the Philippines' sensational 25-21, 25-16, 25-17 win over Hong Kong.
In the next match, Vietnam, who will take part in the SEA Games later this month, will play New Zealand, while South Korea, who are playing without captain Kim Yeon-koung, will meet Sri Lanka.
Fourteen teams are participating in the biennial championship. The pool round-robin preliminaries will run through Friday before the top two teams from each pool advance to the last eight teams; the third and fourth places will be relegated to the 9th-14th classification round. 
VNS