VietNamNet Bridge – Viet Nam's top tennis player Ly Hoang Nam is believed to have the best chance ever to win a gold medal at the upcoming Southeast Asian Games in Malaysia.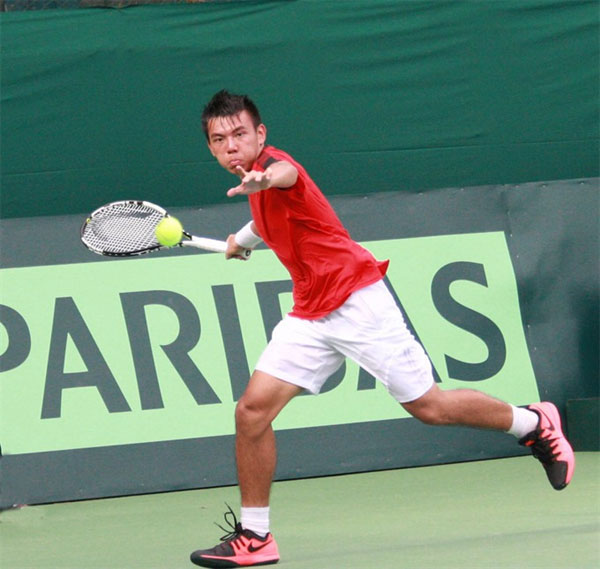 Ly Hoang Nam will hunt a tennis gold medal at the Southeast Asian Games in Malaysia later this month. — Photo banhni.com
Le Viet Cuong, general secretary of Binh Duong Province's Tennis Federation, in which Nam is a member, said they made long-term preparations for his debut at the SEA Games.
Cuong said that if Nam plays to his potential, there is no doubt that he would win a gold medal.
"We have made a careful plan for him for the SEA Games. He trains with a foreign coach and has taken part in many international tournaments. These activities would help him in his best form for the Malaysian event," Cuong said.
Binh Duong has strongly supported Nam in recent years with up to US$100,000 per year for his international competitions.
In the last two years, he has made a big leap in world ranking. The Tay Ninh Province-born athlete, who was not in the top 1,000 in 2015, stormed to the top 500. His goal this year is the top 200.
Nam took part in different youth tournaments in Europe in 2016 and many Men's Futures events this year. He has pocketed enough points to be No. 1 in Southeast Asia.
The 20-year-old is now No 472 in the world and his closest rival is Christopher Rungkat of Indonesia who is at No. 476.
"As the best athlete of the region, Nam will be one of the top three seeds and he would have a more comfortable route at the event and, definitely, his chance to win the title is clearer," Cuong said.
"Of course, we should not pressurise him. I, myself, believe that with a little luck and at his peak Nam will win. Now we have to wait and see how he plays there," he added.
Nam, however, still has a problem with his mental strength during the competitions.
Last week he was defeated in the quarter-finals of the Thailand F4 Futures by Lee Kuan-yi from Chinese Taipei, who was 146 steps below him in the world ranking.
The loss was attributed to his lack of composure and over-hastiness.
"We do not set any target for the athlete because it would create unnecessary pressure on him. We just ask him to play the best for himself and for the nation in every single match," said Nguyen Quoc Ky, President of the Viet Nam Tennis Federation.
Nam won a boys' doubles trophy at the 2015 Wimbledon and is being touted as a favourite to take the medal in the SEA Games' doubles event.
Nam, who is placed No 437 in the world's doubles ranking, will pair with Nguyen Hoang Thien -- No 783. Based on their positions, the Vietnamese duo is predicted to be the No. 4 pair in Malaysia.
They are currently competing at the Thailand F5 Futures. In the quarter-finals on Tuesday, they will meet Pruchya Isaro (Thailand) and Karunuday Singh (India), who ousted No 2 seed Justin Barki (Indonesia) and Kittiphong Wachiramanowong (Thailand) 6-2, 6-3 on Monday.
This year, there will be five events of men's and women's singles and doubles and mixed doubles in the SEA Games.
Two years ago in Singapore, Viet Nam went home empty handed. The country's best result was a silver medal in mixed doubles 20 years ago. 
VNS